In lieu of Thanksgiving and Black Friday, GTA Online has added some exciting perks in a new update. Rockstar has now added a new Adversary Mode, called "Kill Quota," which you can start enjoying by logging on now.
Up to 16 players participate in Kill Quota across 2-4 teams. The Adversary Mode will requires each team to reach a designated number of kills (hence the name Kill Quota) using one of four loadout options. Each team must reach a Kill Quota before moving on to the next weapon in the loadout series. The loadouts will start with high-powered weapons and will end with knives and machetes, simply the "boss fight" match ending with one-stab-kill melees. The new loadouts are listed below:
Loadout 1: RPG > Minigun > Special Carbine > Heavy Revolver > Sawed-Off Shotgun > Machete
Loadout 2: Railgun > Combat MG > Musket > Heavy Sniper > Pump Shotgun > Knuckle Duster
Loadout 3: Sweeper Shotgun > Compact Rifle > Mini SMG > Compact Launcher > Double Barreled Shotgun > Pool Cue
Loadout 4: RPG > Railgun > Heavy Shotgun > Advanced Rifle > AP Pistol > Knife
Note: Reap the benefits of the new Kill Quota mode starting Nov. 22 until Nov. 28th and score double GTA currency and RP while playing on any of the seven maps.
GTA Online now also has a new vehicle, the Bravado Youga Classic. It's available for purchase in the in-game website - Southern San Andreas Super Autos. The Youga Classic features a classic "Scooby Doo Mystery Van" paint job and is perfect for the beach with a fun '60s vibe.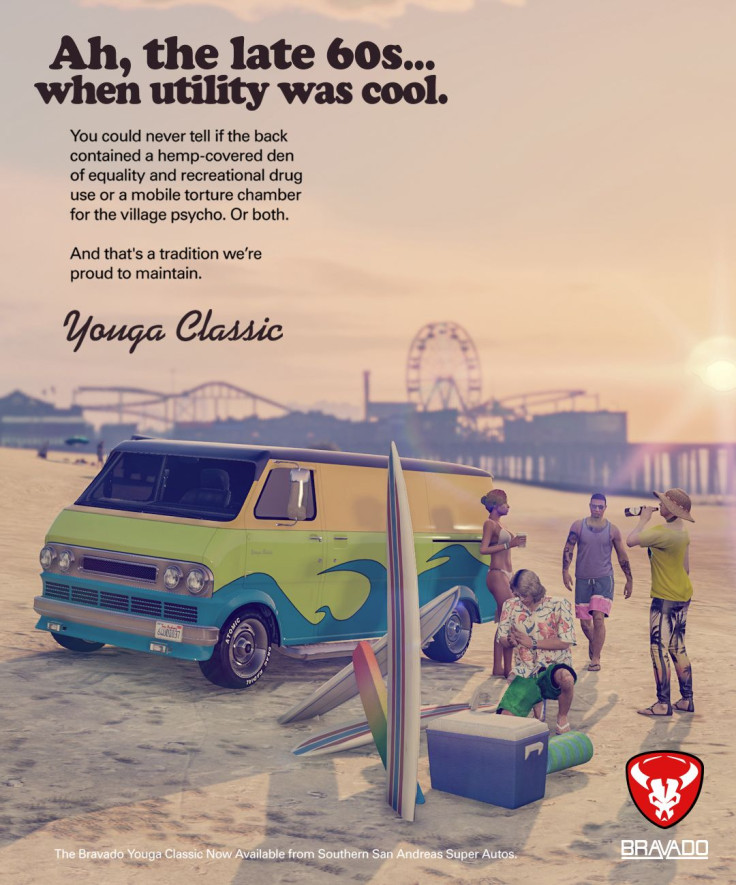 As for Thanksgiving and Black Friday specials, enjoy 25 percent off on GTA Online items until Nov. 28.
Double GTA money and RP in Kill Quota (November 22nd - 28th)
Thanksgiving ONLY - Double GTA money and RP in Every Bullet Counts, Running Back and Inch by Inch
Vehicles: Buckingham SuperVolito and SuperVolito Carbon (25% off)
Vehicle Customizations: Rims, Turbo, Liveries, Resprays, Engine Mods (25% off)
Clothing: Biker Clothing (not including Deadline Outfits) and Tattoos (25% off)
Weapons: Compact Rifle, Carbine Rifle, Assault Rifle (25% off)
Also beginning today, Nov. 22, this week's Premium Race is High Flier, no contact. Hop on your bikes, triple your RP and try to finish in the top three for a nice stack of cash.
Stay tuned for more GTA updates at iDigitalTimes.com.