The rumors were true. The latest GTA Online Import/Export is now live. Import/Export is an extension of the CEO gameplay in the Further Adventures in Finances and Felony update. This update truly puts the icing on the cake of what it takes to engage in actual grand theft auto.
In Import/Export, you can dominate in high-end car theft across Los Santos to add more growth to your business by utilizing Vehicle Cargo to get the job done. Players will also be able to maximize their business thanks to new Executive Garages that are capable of stashing up to 60 vehicles - a car, a truck, or a tank for everyone! By the way, even special Federal vehicles are up for grabs and if you strategize correctly, it could be pulled off without a hitch.
Import/Export let's CEO's take business to all-new heights and partake in more dirty deals with their Organizations. Like the luxury vehicle business, by stealing these vehicles, you'll add that much more value and a new world of opportunity to your growing organization.
By purchasing Vehicle Warehouses, you can store, mod, and export the vehicles you boosted all over Los Santos and Blaine County. In addition, members in organizations will now be given a heads up via an alert when there is a lucrative target to pursue and you'll know whether or not it will be quick job or if an elaborate getaway needs planning - there's a lot to strive for.
To make sure everything goes over well, CEO Abilities and Vehicles are added into the mix to ensure business dealings go as smooth as possible. Protect yourself in a Limo or Buzzard with a turret or use your connections via Bribe Authorities to ensure unwanted heat disappears or use "Ghost Organization" to temporarily conceal the operation from the map. Successfully stolen vehicles that are not damaged ensure smoother transactions and no repair fees.
Once business is going well and you've acquired a slew of stolen vehicles, it's time to market and make some money. Ad-Hawk Autos is where you can connect with potential buyers and enable delivery. To loop potential buyers in even more and possibly sell at a higher margin, mod vehicles to the max and show off to Showroom and Specialist Dealers. One more thing - while the delivery is fancy and all, watch out for other rival organizations and MC's that are on the lookout and may decide to ambush your convoy.
The more vehicles your organization gets, the more Special Vehicle missions will unlock and as these missions are completed, the ability to purchase these vehicles at a "special" SecuroServ price becomes available. Once these special vehicles are owned, VIP opportunities unlock also.
There are eight new Special Vehicles included in Import/Export plus two new Super cars: Pegassi Tempesta and the Ocelot Penetrator. See the full list below:
Special Vehicles:
BF Ramp Buggy
JoBuilt Phantom Edge
Karin Technical Aqua
Nagasaki Blazer Aqua
Brute Armored Boxville
MTL Wastelander
Imponte Ruiner 2000
Coil Rocket Voltic
Vehicles:
Principe Diablous and Diablous Custom
Annis Elegy Retro Custom
Pegassi Tempesta
Ocelot Penetrator
While Import/Export introduces more ways to play GTA Online creatively, Adversary Mode gets a new addition: Turf Wars. Take two or four teams equipped with fast cars and take control over "tiles" (photo below). In Turf Wars, each team has a color and as you drive over each tile claim it with your team color while still defending your own turf, sounds chaotic? Well, there will be rockets placed strategically to really send the message.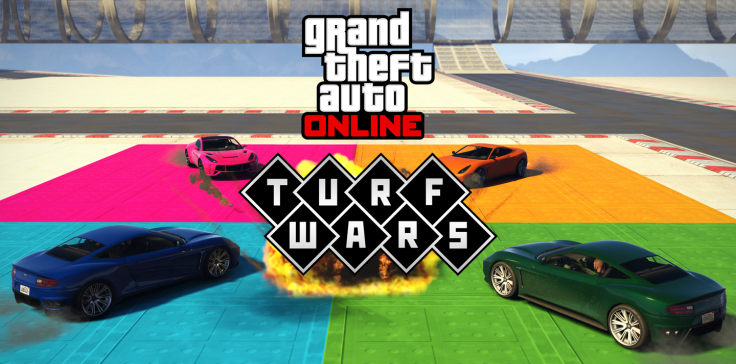 As if adding more structure to your organization, new CEO abilities and new vehicles wasn't enough… players can finally change their character appearance. You were always able to get a haircut, buy new clothes, get more tattoos, so why not actually go the whole nine? Well now you can and it won't require looking up videos of how to enable the glitch.
This about sums up everything about the new Import/Export update to GTA Online, to read more about what else is included in this update - head over to Rockstar Newswire where you'll also have the opportunity to enter the "#Warstock Special Vehicles Rockstar Editor Contest" and much more.