Fortnite Battle Royale has a new exclusive for PS Plus subscribers called the Celebration Pack. In this short guide, we'll tell how how to download the content and offer a quick look at its design.
As seen in the above screenshot, the PlayStation Plus Celebration Pack features a blue outfit and glider for your character designed to match Sony's PlayStation Plus color scheme. "Grab a glider and an outfit to represent your Victory Royale in style with the PlayStation Plus Celebration Pack," the item's store description reads.
There are a few ways you can download it.
Go here and log in with your PlayStation Network account to purchase the skin. Once the process is complete, you'll be asked if you want to download the item to your PS4.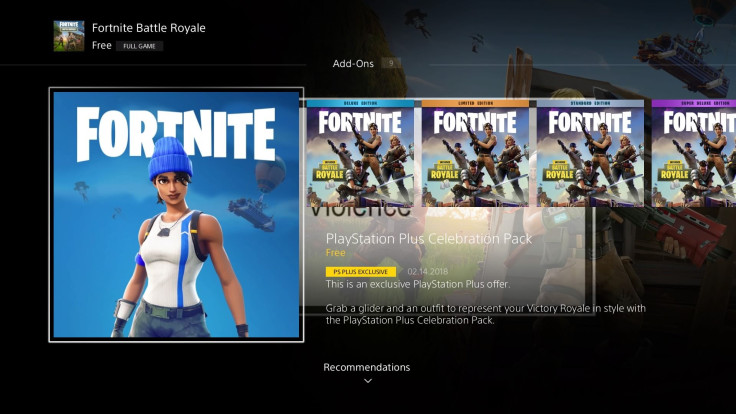 If you'd like to download the Celebration Pack directly to your PS4, there are extra steps.
Go to the PlayStation Store and search for Fortnite Battle Royale.
You should be able to find the Celebration Pack under the page's "Add-Ons" section. Press X to select and confirm the download.
Regardless of which method you choose, once it's downloaded, the items from the Celebration Pack are applied just like any other Fortnite skin. At the main menu, go to the Locker section and select the customized costume and glider. They should both be visible in the available list of options.
This Battle Royale skin is exclusive to PlayStation Plus subscribers, but Battle Royale does not require a PlayStation Plus subscription to play. In other words, while the vast majority of Fortnite's PS4 players will be able to take advantage of this free offer, there are some users that cannot.
Fortnite is in early access across PS4, Xbox One and PC. For even more Battle Royale tips, be sure to read our guide on the newly added Crossbow weapon.
What do you think of Fortnite's PlayStation Plus Celebration Pack? Will you be wearing this skin in the arena? Tell us in the comments section!