The first trailer for Adam Wingard's (You're Next, The Guest, Blair Witch) adaptation of the Death Note manga for Netflix has arrived. Not only is there a trailer, but we've got a release date too: Aug. 25, 2017.
Death Note is about high school student Light Turner (Nat Wolff), who finds a notebook that kills people. Write a name in it, that person dies. Turner doesn't hold back and soon finds the tremendous power of the notebook has brought the attention of a mysterious detective. Oh, and there's a giant death deity, Ryuk (Willem Dafoe), who unleashed the book on the world in the first place.
But how are you going to bring this guy into a live-action movie?
Because the Japanese live-action Ryuk ain't doing it for us: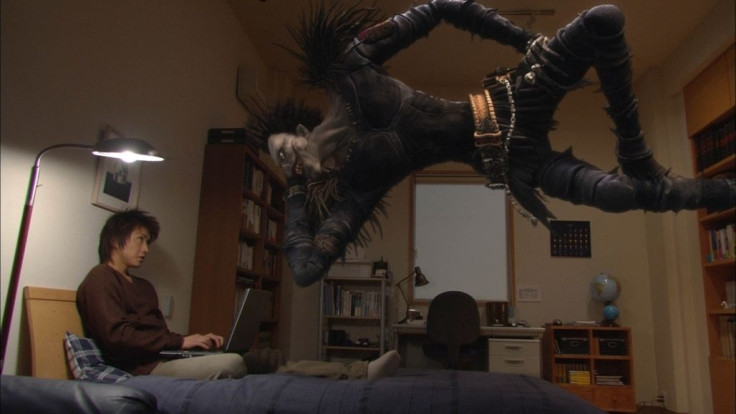 So far the answer seems to be: keep him in the shadows. Ryuk appears in the first trailer for Netflix's Death Note, but he's definitely more of a shadowy figure than the bedroom buddy of the anime.
Check it out for yourself:
Hopefully this will be more like The Guest, with its mastery over tone and violence, than Blair Witch, which felt derivative of the original. This new Death Note looks substantially different than either the manga or anime, which may peeve fans of the original, but hopefully offers something new to the American horror scene.
Death Note won't be getting a theatrical release. Instead it will be available on Netflix only, Aug. 25.