Dishonored 2 drops in less than two weeks and on Wednesday, Bethesda released a new pop-up book styled trailer, "The Book of Karnaca."
The new trailer refuels the story of the endless fight revolving around three returning characters and more depth told by the "Outsider." Grieving and blinded by revenge, former Empress Emily and her father Corvo are making a return. Starting in Dunwall and landing in an even darker world, Karnaca, we can expect a plethora of supernatural powers for both Emily and Corvo, new enemies and a deeper story. You can check out the trailer below.
The "Book of Karnaca" trailer is narrated by the "Outsider" who also has a new voice. Fans have voiced their concerns and doubts. The "Outsider" was an odd fellow but a pretty cool interested 3rd party who was responsible for Corvo's supernatural powers. For new players nothing is amiss but for old, we suspect some questionable tweets.
Dishonored told the story of the death of the assassinated Empress Jessamine. Her daughter Emily is kidnapped by the murderous assassins after witnessing the crushing blow of her mother's death. Corvo, present at the ambush, was a bodyguard for Empress Jessamine and later hinted to be Emily's father through a journal written by Havelock. As Corvo is framed for the Empress' death the hunt for the rightful heir to throne, Emily, becomes the focus of the game.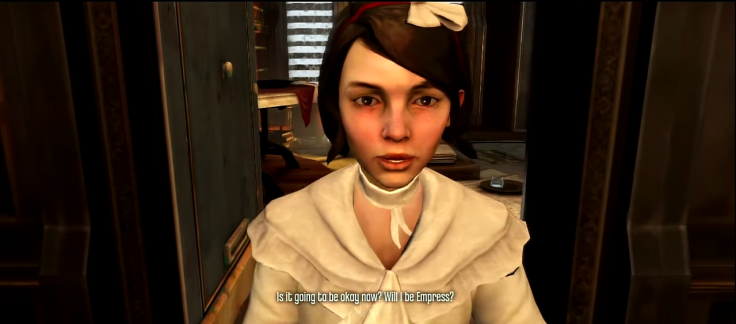 Fifteen years later, Emily is forcefully removed from the throne by the evil witch, Delilah. The former Empress is on the run and is now just as bad-ass as her father, Corvo, who has taught her how to wield her supernatural powers in a fight. Set in the dark and eerie world of Karnaca, Dishonored 2 picks up where Dishonored left off, a story about revenge and the fight to take back the throne that was once rightfully Emily's.
Dishonored 2 launches on Nov. 11 on PS4, Xbox One, and PC. Those who pre-order will get to play Dishonored 2 one day before the official launch and will receive a copy of Dishonored: Definitive Edition.