DC Universe Online announced that Survival Mode is starting Season 2. This is excellent news for those who are looking for challenges. The goal in this mode is to survive for as long as you can since you can't be revived once you're knocked out. The longer the group can survive, the better the rewards, which include Materials, Auras, Base Items, Styles, Orbitals, and even Pets.
For Season 2, 30 rounds are waiting and each round has two waves of minions and in a boss. Beating a boss has players earn Data Chips. Take note that for every five rounds, the amount of Data Chips obtained increases. Data Chips can then be used to get rewards either at the Survival Mode Vendor or Survival Mode Season Vendor.
For Season 2, players can join the Survival Mode by meeting these requirements:
4 Players
Minimum CR: 310
Recommended CR: 316
New in the Marketplace
With Season 2 of Survival Mode, Data Chips are also going to be available in the Marketplace like other seasonal currencies. Fifty Data Chips are being offered for 600 Daybreak Cash/Marketplace Cash.
New as well in the Marketplace is the Anti-Matter Neon Chroma Pack. This is for those who missed the 10th Anniversary member gifts. This is available for 1,400 Daybreak Cash/Marketplace Cash.
St. Patrick's Day
Besides the new season of Survival Mode, it looks like Mister Mxyzptlk is back again with his tricks and making a mess of Metropolis. To access this seasonal event, players need to go to their Mission Journal and look for "Mxyleprechauns!" After that, they just have to speak with Mister Mxyzptlk in their HQ. But The level requirement for the event is 10.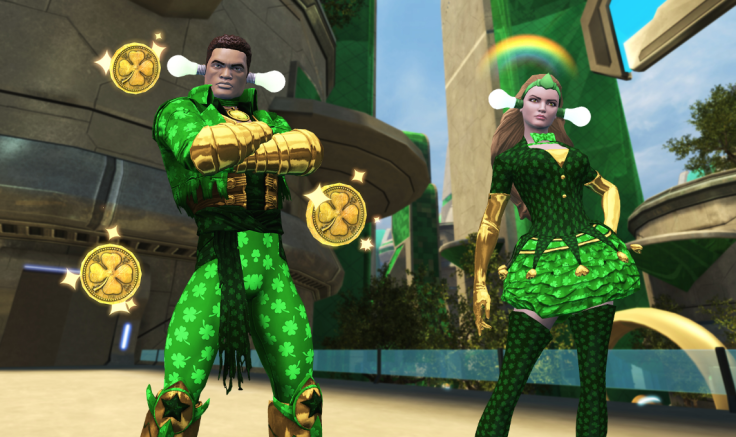 That's not all as for this new event, Mister Mxyzptlk is having a new Base and style items. Finally, the new feats for this seasonal event are:
Watt's the big ID-Ear
Just Another Brick in the Wall
The St. Patrick's Day Event has already started and will run till March 24.
New Episode
DC Universe Online recently revealed that its upcoming Episode is about the World of Flashpoint. For those not familiar with this storyline, it focuses on an alternate universe where there's no Superman while Wonder Woman and Aquaman at war with each other. This new Episode is expected to launch in April 2021. Read more about it here.