Celebrate the Winter Holiday in Core Keeper with the recently released Patch 0.5.1.0. This update brings cool content that's fit for the season, including a new merchant and new items.
One of the things that players will notice when logging into Core Keeper is that certain biomes and objects are now covered in snow. Some enemies also received a makeover befitting of the holidays, like the Slime Blobs that have now become Snowhead Slimes.
Anyway, the new Seasonal Merchant has arrived in Patch 0.5.1.0. This merchant, who happens to resemble Santa Claus, sells players some holiday-themed items, including the Festive Workbench, Gingerbread House Chest, and Little Helperlings.
Players can summon the Seasonal Merchant by crafting a new item called the Seasonal Calendar from the Carpenter's Bench. This calendar should then be placed inside a small room with a bed in it. After doing so, the merchant will appear almost immediately, so players don't have to wait that long.
Aside from the new seasonal content, this update increases the drop chance of Oracle Card "Brilliance." Not only that but this particular card can now drop from Large Ancient Crates as well. This is a pretty good change, especially for players who have had trouble finding one in the past.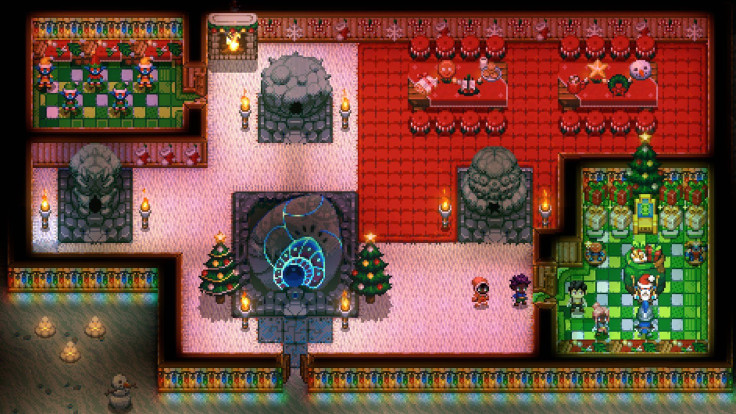 Patch Notes
GAMEPLAY CHANGES
Quality-of-Life

Merchants can now teleport into a room even when any player is nearby or in that room. Note that a Merchant won't teleport while someone is currently very close to or interacting with the Merchant at its current location.

The light on electricity wires now visually reaches one tile less while still powering electricity buildings at the same distance. This makes it clearer since everything connected to a lit wire will be powered.

Art and Animation

Increased the visibility of particles from healing, poisoned or other similar effects

Added particle effects when walking on Slippery Ground Slime.

Players now snore when sleeping.

Balancing

Increased the duration of immunity buffs from cooked Blister Head, Yellow Blister Head and Rot Fish to be five minutes.

Increased the duration of the movement speed increase from cooked Spirit Veil to be two minutes.

Reduced amount of Fireflies that spawn in the Desert of Beginnings biome.

Other

Pressure Plates are now placed on the same height as Circuits, meaning that they will appear beneath flooring and rugs.

Healing from sleeping in bed heals a percentage of player hp every second instead of a set amount.

Added a buff icon for immune to burning.

Can start the game with a specific seasonal event enabled by running the game with the -season argument.
The full changelog can be found on Steam.
Core Keeper Patch 0.5.1.0 is available on PC.