Patch 2.7.0 for Chivalry 2, aka the Winter War Update, is now available on all platforms. This update introduces a new map, weapon, and the much-awaited campaign pass. Read further to learn more.
Assault on the Stronghold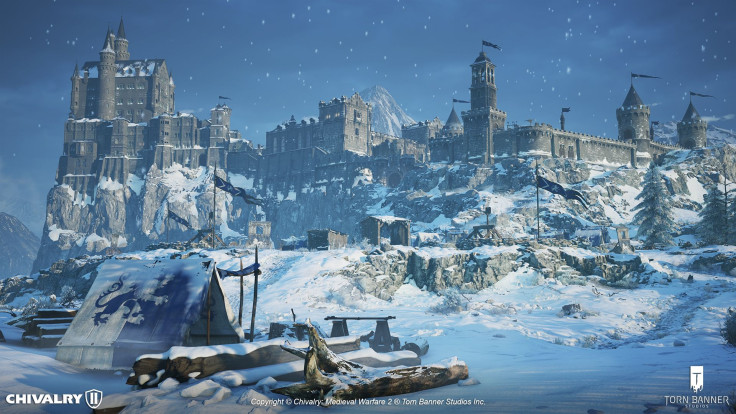 The Winter War is here! The Mason forces have landed on the Agathian heartland with only one main goal: to kill the self-proclaimed King Argon II. But it won't be easy as the Agathian army will do everything to protect their ruler.
The Stronghold is a new objective map in Chivalry 2 where the Mason Order completes a series of objectives that will ultimately lead to King Argon II's demise.
Horses may spawn on the map that the players can use to get from one point to another as quickly as possible.
The new Stronghold map can be played in the Mounted Warfare queue, the 64-player Mixed queue, and the limited-time Winter War queue.
New Weapon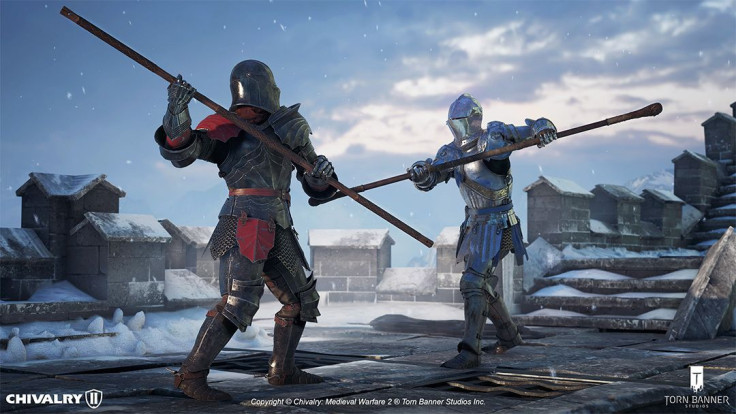 Players who want a more versatile weapon can use the new Quarterstaff. Despite its distinction of being a two-handed heavy primary weapon, the Quarterstaff can actually overwhelm enemies with its speed, a potent choice for close-quarters combat. If the enemy decides to run away, Quarterstaff users can switch to overhead attacks at a considerable distance.
The Quarterstaff is also an effective defensive tool, thanks to its reduced stamina cost when blocking or initiating a special attack.
Campaign Passes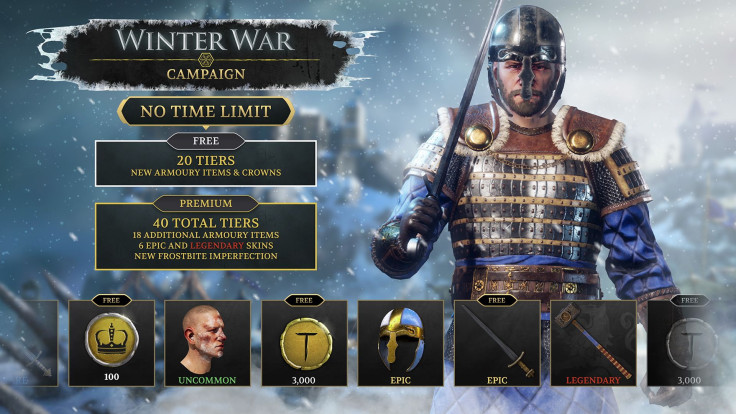 Chivalry 2: Winter War Update features the first implementation of the Campaign Pass as well. This works similarly to the traditional Battle Pass, where players can unlock unique items, currency, and skins just by playing Chivalry 2 as they normally would.
However, Campaign Passes can be either permanent or offered for a limited time, depending on the update. The Campaign Pass for the Winter War Update is permanent, so players can unlock all of the goodies at their own pace.
Additionally, players do not need to do anything because the free track is enabled by default once they've patched their game client. Those interested in getting the premium track can purchase it from the in-game store for 1,000 Crowns.
Here's a rundown of all of the rewards from the Winter War Campaign Pass:
FREE TRACK
Weathered Norse Battle Axe

Weathered Seafarer Helmet

Weathered Huscarl Helmet

Seafarer Helmet

Huscarl Armor

Norse Battle Axe

Huscarl Helmet

Carved Norse Battle Axe

Winter Warrior Player Title

Huscarl Battle Axe

Runesinger Player Title

9,000 gold

300 crowns
PREMIUM TRACK
Stonemason Hammer

Seafarer Player Title

Rusty Guard Sword

The Stronghold Player Title

Rune Hammer

Royal Guard Sword

Engraved Seafarer Helmet

Huscarl Winter Armor

Engraved Guard Sword

Engraved Rune Hanmer

Frostbite Imperfection

Royal Huscarl Sword

Seafarer War Helmet

Engraved Huscarl Helmet

Golden Rune Hammer

Thayic Rune Hammer

Royal Huscarl Helmet

Royal Huscarl Armor

3,000 gold
Chivalry 2 Winter War Update is now available on PS4, PS5, Xbox One, Xbox Series X/S, and PC.