Both Call of Duty: Warzone and Black Ops Cold War are in Halloween spirit as the annual "The Haunting" event is here. Read further to find out what you can get in Warzone throughout the event period.
The LAPA SMG
You can acquire a new weapon when you complete a total of 18 challenges (nine across both games) and that is the LAPA SMG. It is the first-ever ranged weapon given as an event reward.
The LAPA SMG has a slower fire rate than its counterparts but it does pack more punch. It would be interesting to see if this particular armament will be part of the new meta or not, but it is up for grabs.
Ghosts of Verdansk
Both games have something unique to offer. For Warzone, you can participate in the Ghosts of Verdansk, which is a game mode with that familiar battle royale experience except for some notable differences.
When you die in this mode, you will not go to the Gulag. Instead, you are going to run around the battlefield as a ghost. You will have supernatural abilities, such as Super Jump, Teleport, and Spectral Blast, with the latter as an area-of-effect stun that can disable vehicles and slow down enemy Operators.
There are two ways you can respawn. First, you can swipe at the enemy Operators until they die. When they do, they will drop a soul and you will need about three souls to come back to life.
Alternatively, you can do a special Finishing Move to the enemy - sucking their soul out in the process. Do keep in mind that this is a channeling ability, which means you can be interrupted.
Unique to this game mode is a new mechanic known as "Fear." There will be a meter located at the bottom-left of the screen with values from zero to 100. Once you've reached 50%, you will start experiencing hallucinations, and the higher the meter goes, the more problematic your Operator becomes.
You can decrease the Fear meter by eliminating a player or ghost, reviving a squadmate, completing a contract, or staying in the Sacred Ground.
Limited-time Bundles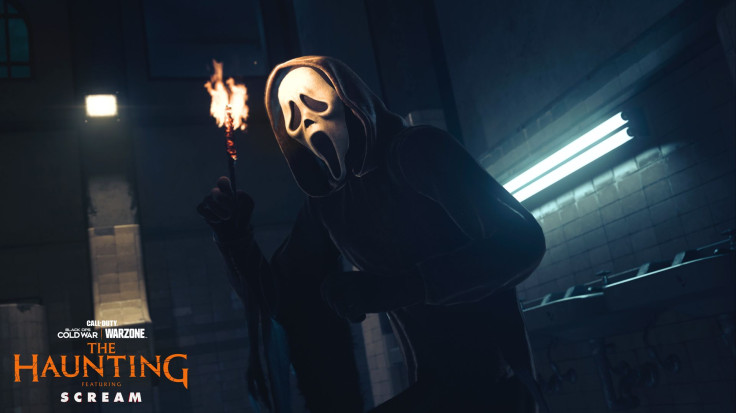 You can get the SCREAM Operator bundle that gives you the chance to play as Ghostface. On October 24, you can get the Tracer Pack: Donnie Darko limited-time bundle.
There are also the Tracer Pack: Necro Queen Reactive Mastercraft and Tracer Pack: Disciple of Mayhem Ultra Bundle. The latter comes with an Operator mission that gives you COD points and an Ultra-rarity Operator Skin Variant upon completion.
New Melee Weapon
At the final stages of the event, you can acquire the Hammer & Sickle, which is a dual-wield weapon that deals more damage than the Sai (also introduced in Season Six), but they are a bit slower at dispensing pain.
You can acquire the Hammer & Sickle on the final day of the event by completing an in-game challenge or by purchasing the Split Personality Bundle. If you get the bundle, you will receive two new Operator Skins for Antonov and other goodies.
Call of Duty: Warzone The Haunting event is now live and will run until November 2.