Bless Unleashed released its latest update, which increased the level cap to 45. Don't get too excited though, as enemies are now going to scale with player levels. This means the higher your level is, the more difficult the enemies are going to be. With the update, players can now join Unions upon reaching a certain part of the story.
So what else is new with the update? Well, these new zones are now going to be accessible:
Kannus Valley
Timeless Jungle
Zenkala
Beoran
Ostium
Eidolon Forest
There are also new Blessings to obtain, particularly those that weren't available during the open beta test. These are Night Wind, Storm Chaser, and Centurion's Command.
Good news is here as well for those who want to fight it out in PvP matches, as Battlefields now allow for multiple player levels. There is also the Warlords Arena where Level 28 and above players get to form a team of three and go head-to-head. Of course, there's also the open world PvP which is available once a player reaches Level 20. However, this open world PvP is limited to only a select number of areas.
You can read the rest of the changes that came with the update here.
Head Start Events
Bless Unleashed will officially release on March 12. However, those who purchased one of the different Founder's Packs get to play the game early:
Deluxe ($19.99)

7-Day Head Start (Play on March 5)

Exalted ($39.99)

10-Day Head Start (Play on March 2)

Ultimate ($79.99)

15-Day Head Start (Play on February 26)
As a bonus to those who purchases the Founder's Pack, there are going to be a series of events which starts on February 26 at 1:00 p.m. EDT. Each event is going to have a different reward. You can view the rewards below: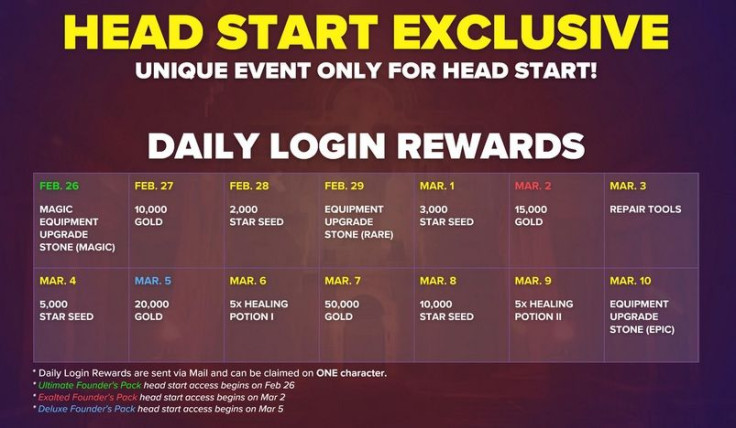 There's also going to be a unique Star Seed Reward box for players who log in during Head Start. The box can be unlocked at levels 10, 15, 20, 25, and 30, and rewards players with a total of 100,000 Star Seed as they progress through character levels.
You can buy the Founder's Pack here.