Bless Unleashed announced the final beta test scheduled for PC, which starts May 12 and ends May 16. This is because Round8 Studio is hoping for a summer 2021 release. Players who participated in the two previous playtests can still join and try any new additions to the game.
One of the new features that players can test is the in-game Lumena Shop. To make sure that players can use it and that it works on PC, the game is handing out free Lumena for the entire final test period.
In a press statement, Jason Park, head of development at Round8, said that ever since they started the beta tests for PC, they have constantly been listening to player feedback. He added that they've been happy with all the progress done.
Beta Test
If you're one of those interested, these are the steps you need to follow. First is you need to visit the Bless Unleashed page on the Steam store here. Look for the "Join the Bless Unleashed - Beta Test" and then click "Request Access." It should look like this: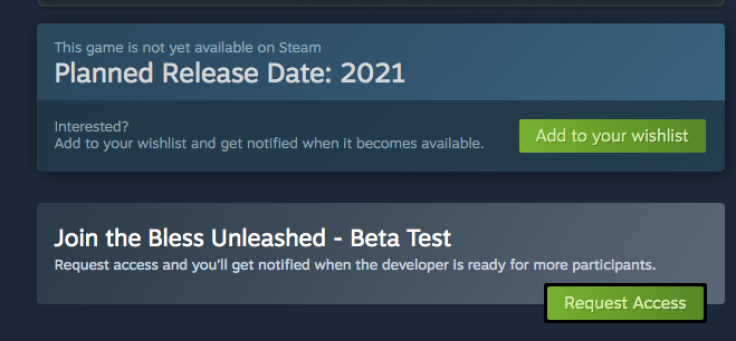 If you're granted access, you should receive an email from Steam. If you are qualified to be part of the final beta test, there should be a Playtest app added to your Library. Simply install the app and wait for the date to arrive. Once the actual schedule arrives, choose "Bless Unleashed - Beta Test" from the Library to install the game and then play it.
Upcoming Update
The final beta test and the possible release in the summer are good news to PC players. It's not only because the game is now available for this platform but also a new update is coming soon.
Titled "Secrets and Scions," it's set to make changes to the Reputation and Prestige Quests. An update is coming as well to the Dream Dungeon. The best news for PC players when it comes to this update is the revamped tutorial, which means it's now easier to join the game. Read more about what to expect from the upcoming update here.
Bless Unleashed is an MMORPG that was released initially on PS4 in 2020. A version for Xbox One was also launched later that year.