Developer Revolution Software has launched a new update for Beyond a Steel Sky that introduces new Holo-Brooches. This patch also adds a lot of gameplay improvements.
Beyond a Steel Sky is the successor to the highly successful point-and-click game, Beneath a Steel Sky. You play as Robert Foster - a young man who is on a quest to find a kidnapped child and bring him home. Foster's investigation leads him to Union City, a bustling utopia filled with new technology. Despite its luxuriousness, the city might be holding something dark in its underbelly, and it is up to you to find out.
Anyway, Update 7 introduces new Holo-Brooches. These are items that Foster equips as part of his outfit. When you go to the museum, a notification will tell you that a Holo-Brooch has been unlocked. After getting it, you can start collecting more.
The first thing that you need to know about the new Holo-Brooches is that their designs have been spruced up with new art and shaders, making them more vivid than before.
Second, you need to explore different areas to find them. Try clicking on items placed where they shouldn't belong. There's also a new tab in the MINOS terminals that keeps track of all Holo-Brooches you've acquired.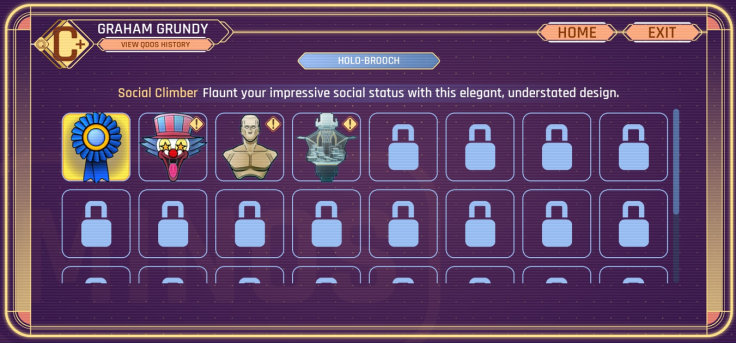 Gameplay Improvements
The developers have added a lot of good improvements in Update 7. For one, you can now skip the intro if you want to get right into the action as quickly as possible. Furthermore, the issue where tabbing out of the game would make the sound go out of sync with the animation has been resolved.
Another notable improvement is that Foster can now pull his trusty hacking tool out while walking. In addition, the game now feels more responsive when you're pausing or using the hacking tool. This is possible because your system's resources are devoted only to what's currently happening on the screen.
While the Steam Deck hasn't been released yet, the game fully supports Valve's upcoming portable console. The developers made the optimizations to ensure that Beyond a Steel Sky will run beautifully on it as possible.
Beyond a Steel Sky Update 7 is now available on PS4, PS5, Xbox One, Xbox Series X/S, Nintendo Switch, iOS, and PC.