The pirate survival MMO ATLAS embraces Season 9 with a new patch that introduces some new content, including a new region shrouded in darkness.
New Region
Patch v543.00 introduces the Maw Waters region in ATLAS. This new region is engulfed in an unnaturally thick fog and is filled with monsters that can vanish or appear out of thin air.
Pathfinders will be given a special item called the Lantern of the Maw as soon as they venture forth into this region. The lantern can be filled with a resource known as Essence of the Maw, which can be acquired by doing certain activities in the area.
The Essence of the Maw can be used to craft a semi-soft, semi-solid crystal called Solidified Essence. Pathfinders who want to leave the Maw Waters region should fully fill their lanterns with it.
New Mini-Bosses
Pathfinders who are itching to kill tougher enemies will be happy to know of the seven new mini-bosses. They can be found in different locations at the Golden Age Ruins. Here's a rundown:
Ancient Fire Elemental

Elder Rock Elemental

Kekada

Buwaya

Eber

Crystal Scorpion

The Sentinel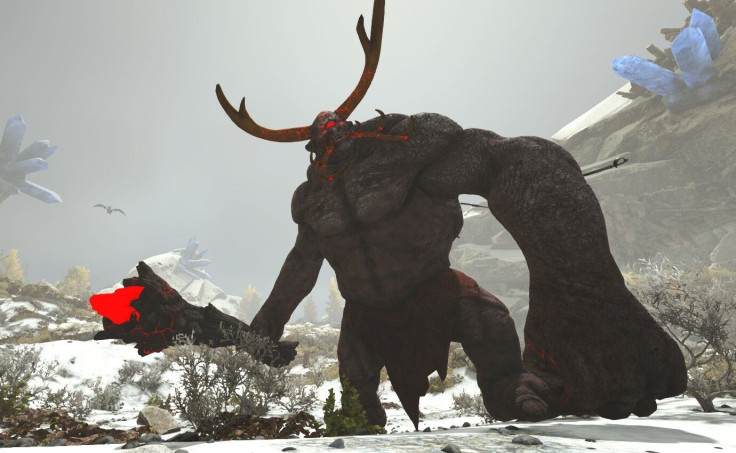 Patch Notes
MISC.
Timeworn quality has been removed until content and bugs are fixed

Giant Turtles no longer spawn underwater

Chromatic Aberration has been removed from underwater post-processing

Increase the cost of the tame house

No longer rounding on ship sail unit values

Players can no longer store temporary tames in the Pegasus

Industrial Rifle has been adjusted. Bleed removed, increased damage from 160 to 200 per shot, increased durability loss from 4 to 8 per shot

Industrial Revolver has been adjusted. Bleed removed, increased damage from 50 to 100 per shot, increased durability loss from 1.5 to 3 per shot

Tames will be ejected from the Tame House when the Tame House is destroyed instead of killed

The resource costs for crafting patch kits and armor patch kits have been reduced by 50%

Modular ships have had their base weights adjusted

Server restarts have been set to automatically happen at 10:30 a.m PST (1:30 p.m. EST) daily, including weekends.

Scuttle and Unclaim options for ships have been changed to be locked behind company rank, similar to how structure access is. Interact with the steering wheel to set the minimum rank that can scuttle or unclaim

Adjusted lighting so there will be less contrast between day and night
BUG FIXES
Fixed instances where babies born in the tame house did not require imprinting

Fixed instances where the forge would prioritize burning thatch before wood

Fixed instances where controller disconnect can cause a crash
The full changelog for ATLAS Patch v543.00 can be found on Steam.