A new patch for Assassin's Creed Valhalla is now available. But unlike previous updates, you'll have to redownload the entire game to take advantage of the new content and features. This is due to a data restructuring that promises faster loading screen times, better runtime performance, and improved world data streaming.
Crossover Stories
Title Update 1.4.1 delivers crossover stories where you can unlock Assassin's Creed Odyssey- themed rewards by completing the story mission: A Fated Encounter.
For you to gain access to the said story content, you must first reach Settlement Level 4 and you should have the quest, A Wise Friend, already completed. For those who do not know, this is the quest where you help Valka establish herself in Ravensthorpe.
Those playing Assassin's Creed Odyssey will also gain access to new story content, which will be available after downloading the game's latest update.
Other Notable Additions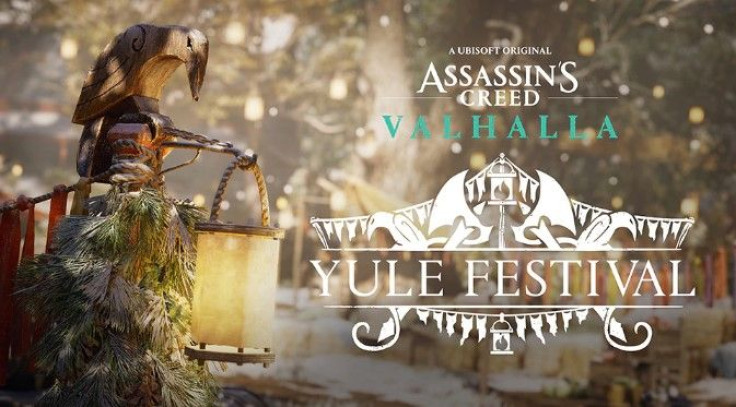 Title Update 1.4.1 adds support for the Yule Festival as well. This event will begin on December 16 and will end next year, January 6. If you participate in this event, you will gain new items such as the Snowy Beard and Hair and Settlement decorations.
In addition, various sub-sections have been added to the stealth, combat, and exploration settings in the Gameplay tab. These are:
Stealth:
Guaranteed Assassination (ON/OFF)

Detection escape (0.5, 1, 2 seconds)

Detection escape while aiming (1, 2, 4 seconds)

Search duration (50, 65, 80 seconds)

Maximum enemies in search (2,3)
Combat:
Aim Assist (Full, Moderate, Light, Off)

Level Scaling (Off, Default, Constant, Harder, Nightmarish)

Parry timing window (400, 650, 800 milliseconds)

Brush with Death timing window (300, 400, 600 milliseconds)

Brush with Death Duration (1, 1.5, 2, 2.5 seconds)
Exploration:
Closest Opportunity (ON/OFF)

Icon Distance (OFF/ON)

Viewpoint Synchronization (ON/OFF)

Exploration Beams (Limited/Full)

Unguided Objectives (OFF/ON)
Update Highlights
STEALTH IMPROVEMENTS
Improved instances where NPCs could detect players when vision between the player and NPCs is obstructed

Reduced the hold time and speed restriction when blending with crowds

Resolved some issues that caused players to be instantly detected when they should not have been
MISCELLANEOUS
Updated Quest Log Ordering: Quests will now be ordered based on the Recommended Power Level

Players will now be able to see up to 200 items in the transmog menu

Added a purchase celebration page to the Animus Store
You can read the full patch notes by heading to the game's official website.
Assassin's Creed Valhalla Title Update 1.4.1 is now available on PS4, PS5, Xbox One, Xbox Series X/S, and PC.