In a community blog post shared earlier this week, AMD officially confirmed that it has ended support for its GCN architecture graphics cards. The company stated that with the release of the Radeon Adrenalin 21.6.1 driver, it is moving a selection of graphics products to a legacy model.
Additionally, AMD has also discontinued graphics driver support for Windows 7 64-bit operating system. Microsoft officially discontinued support for Windows 7 on January 14, 2020.
AMD claims that this change enables it to dedicate valuable resources and engineering efforts towards developing new features and enhancements for its latest graphical architecture.
Affected AMD GPUs from the Change
The list of discrete graphics cards and mobile GPUs affected by this change include: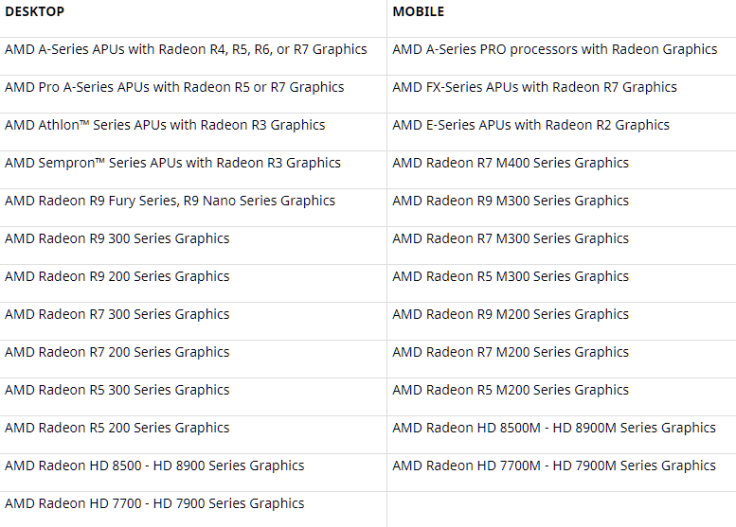 AMD suggested to users, who are passionate about gaming, to upgrade to modern GPUs if they are still using the now legacy models. The CPU and GPU maker also touted that its newer graphical products are packed with new features, better performance, less power consumption, and broader compatibility with the latest PC games.
Nvidia Ending Support for Kepler Architecture
Just like AMD, Nvidia recently announced that it will be officially ending support for GPUs based on the Kepler architecture on October 4, 2021. The company also revealed that the R470 driver would be the last support for the beloved series when it launches on August 31, 2021.
Additionally, Nvidia is ending GeForce support for Windows 7, Windows 8, and Windows 8.1 operating systems on October 4, 2021.
This change will impact the GTX 600 and GTX 700 series. However, GTX 750 Ti, GTX 750, and GTX 745 (OEM) GPUs will not be affected by this change as they are built on Maxwell-based GM107 architecture, which was a successor to Kepler.
Microsoft Ending Support for Windows 10 in October 2025
While we are still on the topic of products becoming legacies, Microsoft revealed that on October 14, 2025, it would effectively end support on Windows 10. Windows 10 Home and Pro were originally launched on July 25, 2015. This means that the operating system will have just above 10 years of support before being classified as a legacy.