Sony confirmed in September, after several leaks, that Uncharted: Legacy of Thieves Collection will come to PS5 and PC in 2022. The company also revealed that the PS5 version will drop first, followed by the PC version shortly.
Yesterday, we received more new information about the PS5 version. The collection will arrive on the console on January 28.
Pre-Order for PS5 and Upgrade Path
Pre-orders for the PS5 version are now live. It will cost you $49.99 and give access to the remasters of Uncharted 4: A Thief's End and Lost Legacy. However, players who purchased Uncharted 4 or Lost Legacy for PS4 can upgrade to the collection for only $10.
Players who claimed Uncharted 4 via PlayStation Plus are not eligible for the $10 upgrade. More details about the upgrade path are mentioned in the photo below and on the official site.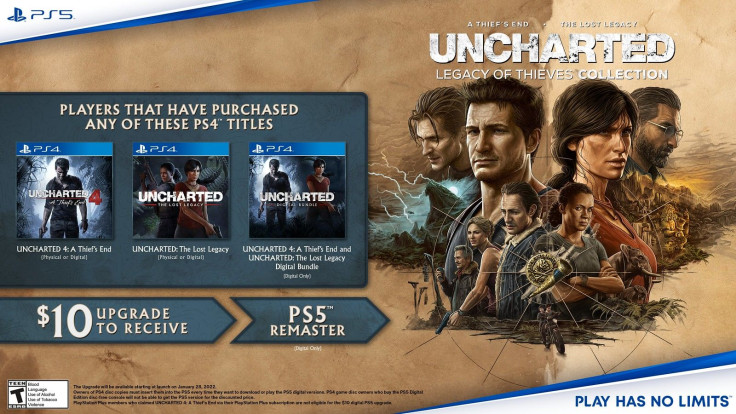 Graphics Options
Both games will offer three graphics options:
Fidelity Mode: For those of you who have a 4K display and want super sharp resolution above all else to enjoy the stunning environments and details the Uncharted series is known for, select Fidelity Mode and play in native 4K resolution with a 30 FPS target framerate.

Performance Mode: Performance Mode targets a 60 FPS framerate.

Performance+ Mode: If you're all about the smoothest gameplay possible and don't mind a resolution drop, try out our first ever Performance+ Mode, which targets 120 FPS at a 1080p resolution.
New and Missing Features
The collection comes with several new features, including Near-Instant Load Time, Spatial 3D Audio, Haptic Feedback, Adaptive Triggers, and better visuals. Unfortunately, the multiplayer component of both games is not included in the collection. It will be missing from the PC version as well.
The file size of this collection is around 89 GB, without the Day One patch. You will be able to pre-load the game from January 21.
PC Version
No new information about the PC version of the game was revealed. But the official blog post re-assured that the collection will arrive in 2022. It's not confirmed yet we are sure that it will cost $49.99, just like the PS5 version. We will let you know when more information is out.