The Disney Tsum Tsum Sweetheart Valentines event has begun but which characters have white hands and how do you make all capsules red? Get cheats for beating these challenges and more in the Valentine 2018 event.
Love is in the air this February, as Disney Tsum Tsum kicks off its Valentines 2018 "Sweetheart" Event with a ton of new challenges for players to win game perks like premium boxes, coins, bonus item tickets and more. We've put together a complete guide to the event, including how to play, what each challenge entails and the prizes players can win by completing the challenges. In addition, we've compiled a cheat list with the best Tsum Tsum to use to beat challenges like White Hands, making all capsules red, call a sweetheart skill and more. Enjoy!
Disney Tsum Tsum Sweetheart Event: When It Starts And How To Play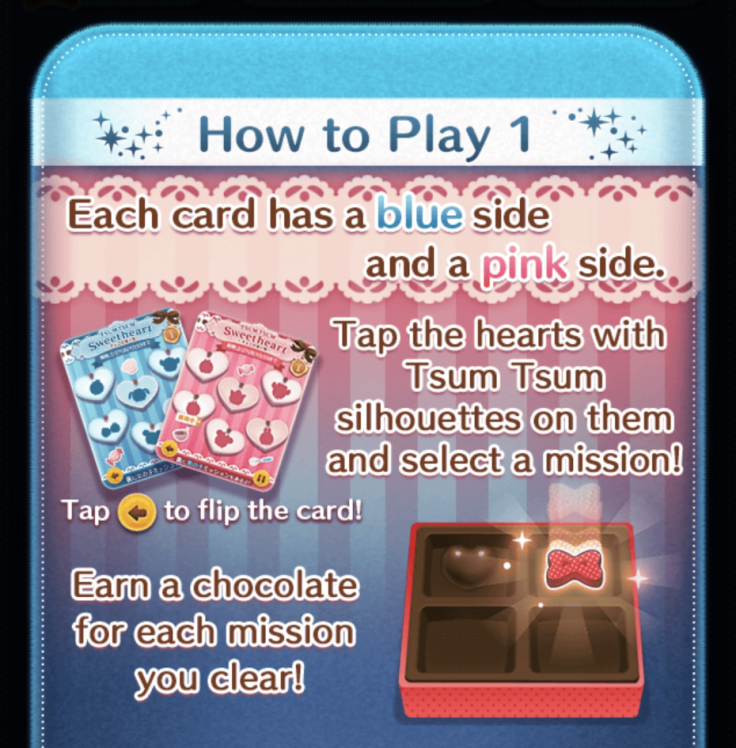 The Disney Tsum Tsum Sweetheart Event kicked off Feb. 5 and will run through Feb. 25. During the event, players will work on filling out three special Valentines event cards. Each card features six paired Sweetheart challenges. Sweetheart cards have a red and a blue side. players must complete the challenges for both matching sides (ex: Red = Daisy, Blue = Donald) to win the reward. Each character comes with four specific challenges to complete, giving each card a total of 48 to beat in order to win the final prize -- the Princess Minnie premium event character.
Disney Tsum Tsum Sweetheart Event Prizes & Challenges: Which Tsum Tsum Can I Use To Beat Them?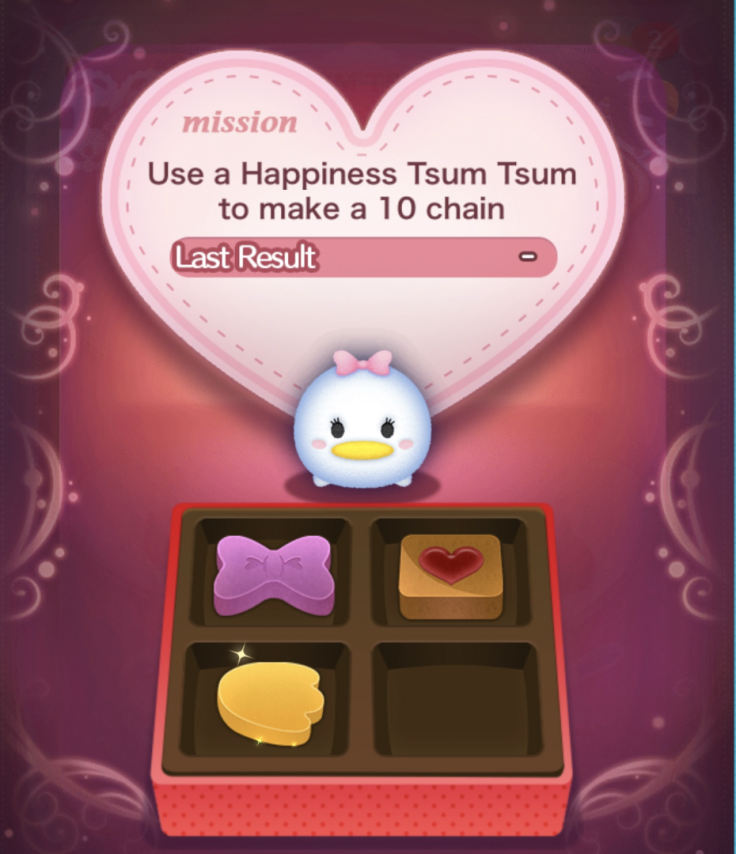 Card #1
Donald and Daisy Challenge
Daisy (Red)
Donald (Blue)
Reward - 1 Premium Ticket
Oswald and Ortensia Challenge
Ortensia (Red)
Use a Black Tsum Tsum to hit capsule with 2 bubbles or skills (List of All Black Tsum Tsum can be found here )

Hit capsule with 3 bubbles or skills

Hit capsule with 4 bubbles or skills

Hit capsule with 5 bubbles or skills
Oswald (Blue)
Clear 30 My Tsum Tsum in one play

Clear 40 My Tsum Tsum in one play

Use a Black Tsum Tsum to Clear 50 in one play

Clear 60 My Tsum Tsum in one play
Reward - 1 Time Ticket
Bernard and Bianca Challenge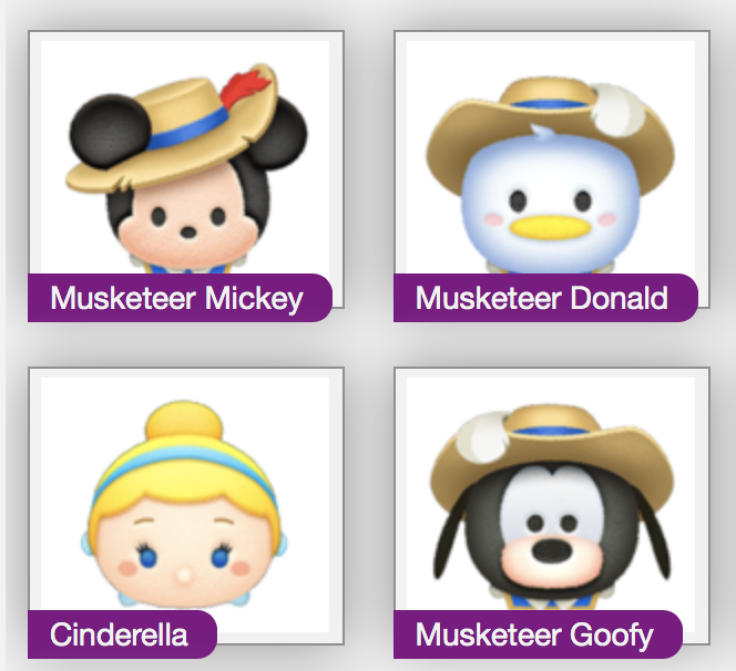 Bianca (Red)
Clear 150 Tsum Tsum in one play

Clear 200 Tsum Tsum in one play

Clear 280 Tsum Tsum in one play

Clear 280 Tsum Tsum using a Premium Tsum Tsum in one play (List of All Premium Tsum Tsum can be found here .)
Bernard (Blue)
Use a male Tsum Tsum to clear three capsules in one play

Clear four capsules in one play

Clear five capsules in one play

Clear seven capsules in one play
Reward - 1 Bubble Ticket
Chip & Dale and Clarice Challenge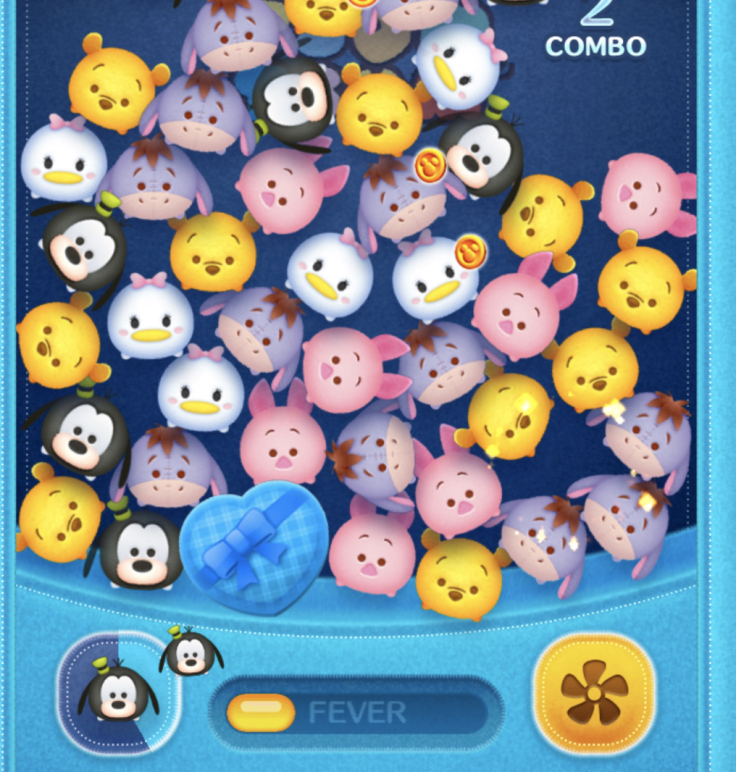 Clarice (Red)
Earn 120 coins in one play

Earn 200 coins in one play

Earn 300 coins in one play

Earn 400 coins in one play
Chip & Dale (Blue)
Make all capsules red ( How to make all capsules red: Some capsules will be blue. You can change their color by popping a bubble or using a skill near the blue capsule. Once all capsules turn red, they will disappear)

Make all capsules red

Use a Black Tsum Tsum to turn all capsules red

Make all capsules red
Reward - 2 Score Tickets
Thumper & Miss Bunny Challenge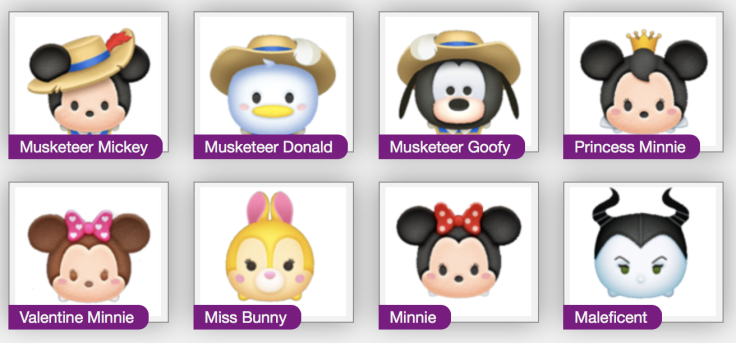 Miss Bunny (Red)
Pop 6 Magic Bubbles in one play (you can find best Tsum Tsum for this challenge listed here)

Pop 7 Magic Bubbles in one play

Pop 7 Magic Bubbles in one play using a Tsum Tsum with an "M" initial ( All Tsum Tsum with the "M" initial are listed here )

Pop 8 Magic Bubbles in one play
Thumper (Blue)
Use skills 2 times in one play

Use a Male Tsum Tsum's skills 3 times in one play

Use skills 4 times in one play

Use a Tsum Tsum skill that clears the center 4 times in one play (List of Tsum Tsum that clear the center can be found here )
Reward - 1000 coins
Mickey & Minnie Challenge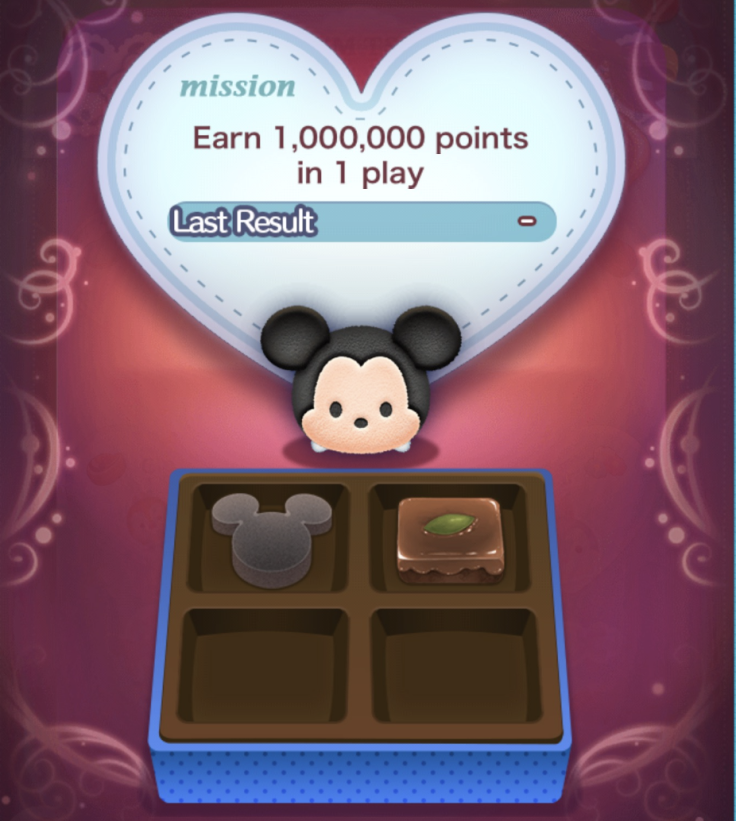 Minnie (Red)
Make all capsules red

Make all capsules red

Use a Black Tsum Tsum to make all capsules red

Make all capsules red
Mickey (Blue)
Earn 500,000 points in one play

Use a round-eared Tsum Tsum to earn 750,000 points in one play (a list of All Round-Eared Tsum Tsum can be found here.)

Earn 1,000,000 points in one play
Reward - 7 Hearts
Complete Card 1 Reward - Princess Minnie Tsum Tsum
Card 2
(Rewards listed below. Challenges coming soon)
Card 3
(Rewards listed below. Challenges details coming soon)