The Concealed Target pack for Sniper Elite 5 is now available on all platforms. This DLC includes the HS.22 pistol, Ghillie Suit Elite Character Skin, and Pea Dot Camo Skin for weapons.
Those interested can get the Concealed Target pack as a standalone purchase for $9.99. Players can also get this as part of Season Pass One for Sniper Elite 5, which is sold for $34.99.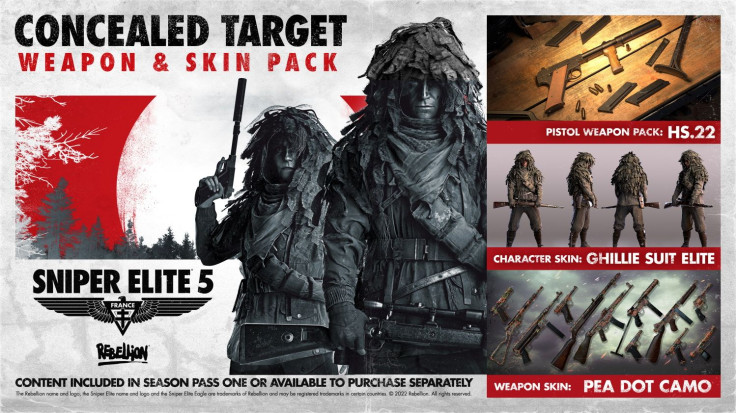 Along with the DLC is an update that features a new survival map free to all players called "Amongst the Rubble." Players will deploy to the once beautiful city of Saint-Nazaire, where they will face a seemingly endless number of Nazi invaders. This map is playable in solo and co-op modes.
Another notable feature added is Prestige Mode. This mode allows players to restart their Sniper Elite 5 progression as many times as they'd like. Prestige Mode is available in the Service Record and is unlocked once players reach Level 50 in adversarial multiplayer modes.
Here are the other interesting things implemented in the latest patch:
Added support for highly requested Map Voting in Quick Match multiplayer lobbies

Added Shot Callout functionality in the Firing Range

Added "Game Update" functionality to highlight new content and DLC

Updated the Axis Invasion rematch messaging to be clearer if the invader declines a rematch

Fix to a ledge in Secret Weapons that players could climb down but not back up

Fixed an issue where special ammo types were disappearing after saving the game and reloading

Resolved an issue where players could get stuck on a ladder in No Cross

Fixed a set of stairs in Secret Weapons that some players found hard to climb

In Spy Academy, we have fixed an issue where players could fall through a wall and under the game map

Fixed Satchel charge which was not unlocking after completing the campaign

Resolved issues caused by having Satchel Charges in Equipment slot one

Fixed a known issue with Exfiltration from Liberation

In Survival Mode, an issue where weapons dropped on raised surfaces could not always be picked up again has been fixed

Fixed issue of players falling through the map on the Atlantic Wall

Instances of Karl picking up a weapon and appearing empty-handed have been resolved

When playing Invasion Mode players will no longer be able to leave the game during Kill Cam to avoid the kill being attributed

Resolved an issue where players can fall through the map below the bridge on Spy Academy
The latest update for Sniper Elite 5, and the Concealed Target pack, are available on PS4, PS5, Xbox One, Xbox Series X/S, and PC.