Sony's worst kept secret has officially been confirmed: Sackboy: A Big Adventure is coming to PC on October 27. The game can be purchased on both Steam and Epic Games Store for $60. You might be interested in the pre-order bonus if you are into skins and emotes. More on that is mentioned below.
PC Improvements
As you would expect, the PC version will come with many improvements over the base console version. The game will support 4K at 120 FPS, Nvidia's DLSS, variable refresh rates, and 21:9 ultra-widescreen. Players can also enjoy full DualSense support, including haptic feedback and dynamic trigger effects, though via wired connection only.
Keyboard and mouse are supported, and you can also fully rebind them. Several other gamepads can work as expected.
Pre-order Bonus
Thankfully, the pre-order bonus isn't a must-have. It contains skins and emotes of four characters from other PlayStation games.
Connor – Prototype Cyberlife android.

Jin Sakai – Fearless samurai warrior.

Deacon St. John – Outlaw biker hero.

Sam Porter Bridges – Intrepid courier.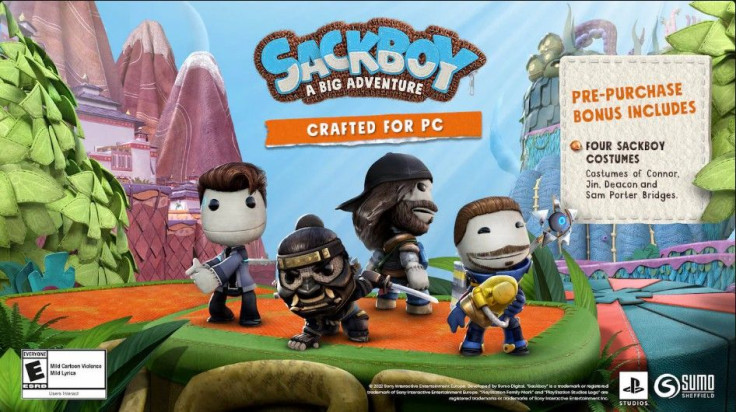 Before you pre-order the game, you might want to know if your hardware is up for the task. Check out our previous article to read the official PC system requirements.
Another October Release
October is going to be a good month for PC players. The 2020 co-op platformer game isn't the only Sony game launching on the master race. The long-announced, Uncharted: Legacy of Thieves Collection, will be released for PC on October 19.
So, by the time you are done with Nathan Drake's last chapter and Chloe Frazer's spin-off, you will have a great platformer game to enjoy with friends. You can play Sackboy in single-player mode as well.
Previous Leaks and Rumors
The release of Sackboy: A Big Adventure on PC was no surprise. Its PC port has been rumored since last year, and just a few weeks ago, a screenshot of the game running on a Steam Deck was leaked. Another title that's leaked for PC is Returnal; it should be the next game to get an official confirmation.
So, what do you think? Are you interested in playing Sackboy: A Big Adventure on PC? Are you more interested in Uncharted: Legacy of Thieves Collection? Let us know your thoughts in the comments section below.