The alternate-history RTS World War 1 game Iron Harvest was released a few weeks ago. The reception of Iron Harvest has been positive so far, but some criticism was made toward some missing basic features. Developer King Art Games listened to the fans' feedback and have released a major update that improves Iron Harvest in almost every aspect.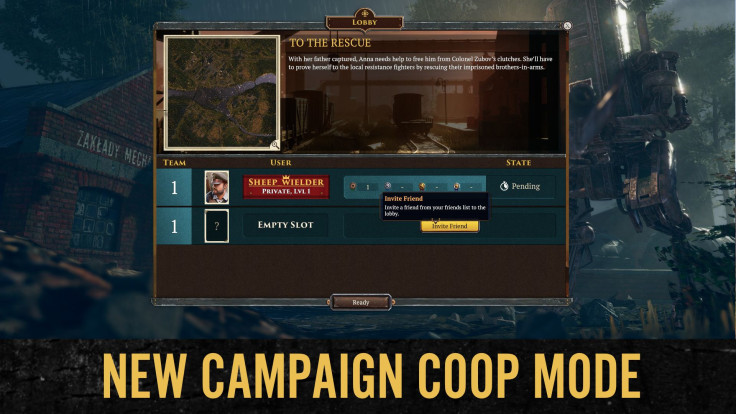 The update is now live and should download automatically. From now on, you can play the entire campaign with a friend. Co-op campaign support is here to make your experience even better. You just need to choose the mission and invite a friend, that's it. Keep in mind that both players will have access to all the friendly units, so you'll need to work together to achieve victory.
A brand new map called The Great Wastes is also introduced. It's a 3v3 Multiplayer and Skirmish map. You can check out the trailer of the map above. The update also makes the game feel more authentic. Native language support has been added. I know most of us probably won't understand what they are saying, but hey, that's what the subtitles are for.
There are several other changes the update made. They are mentioned below and on the official site.
Iron Harvest Change Log 1 Patch Notes
General Changes
The 7th Rusviet mission has been significantly reworked. The AI has been adjusted and a bug has been fixed that sometimes let to an overproduction of guardian mechs. As a result, previous saved games are now invalidated for this mission.
Fixes to aid progression for those who played during the open beta and hadn't completed the missions in the intended order.
Mechs preview skins are now always removed before a new one is displayed.
Background diagnostic tools added to create detailed logs when online services fail (pending).
Added auto reconnect to online services after 30 seconds if connection unexpectedly lost.
If not accepted, the EULA auto pops-up so that it is easier to access online services.
U.I. fixes and improvements to accommodate text changes.
Language localisation improvements and fixes.
SFX added.
Saved game improvement, incl.an overwrite function when you have reached the maximum number of save games possible.
General improvements to aid match making.
GOG pre-order mech skins are now available.
Steam achievements are now available.