Love animated GIFs and want to make one out of a YouTube or other video but just don't know how to get started? No problem. We've searched the web looking for the quickest and easiest way to make a GIF from YouTube videos or other video and picture sources, and put them together here.
While we've featured in detail five of our favorite animated GIF tools, we've also listed a number of other tools that can help you make the kind of GIF you might be looking for. Some of the tools only work on the desktop, while others may have been designed in app format for mobile iOS or android devices. Make sure to check the descriptions to know which devices are supported.
Enjoy and happy GIF making!
Basic YouTube And Video Gif Makers
gifYouTube
Ok,  so gifYouTube is probably the simplest tool there is to make a gif out of a YouTube video. The steps are as follows.
1)   Find the YouTube video you want to turn into a GIF
2)   Once you are on the YouTube page, go up to the browser bar and at the front of the URL, type in "gif" (Ex: YouTube video URL is https://www.youtube.com/watch?v=w7LtLDbMVlI. Change it to: https://www.gifyoutube.com/watch?v=w7LtLDbMVlI)

3)   Once you've done that, hit "enter/return" on your keyboard and you'll be taken to the gifyoutube.com webpage.
4)   Simply select the start time of the video and how long you want your gif to be (0 - 15 seconds)
5)   Click on "Create Gif" and in a few seconds your GIF will be ready!
Once it's created you can share your gif via, Facebook, Twitter, Tumblr or Reddit. Or you can copy the url or embed code to add it to a website or share it in another way.  It truly is one of the simplest ways to create and share a gif made from a YouTube video. The tool works on both mobile phones like iPhone or Android devices, as well as on desktop /laptop computers.
Imgur Video to Gif
What about if you want a Gif made from other video sources besides YouTube? Imgur Video to Gif may be a better solution for you. All you need to get going is a URL of the video you want to GIF. Here's how to use it:
1)   Go to https://imgur.com/vidgif
2)   Paste the url of your video into the box
3)   Drag the plus signs to select the video clip to gif
4)   Add captions if you'd like
5)   Click "Create GIF"
A few seconds later your gif will appear with a number of sharing options including links and embed codes. If you are logged into your imgur account you can save your gif there, but an account isn't required for using Imgur's GIF maker.  The tool only works on desktop and laptops currently so mobile devices are out of luck on this one.
Tools For Artistic GIF Making
So now we have given you a couple of basic Gif making tools for YouTube and other video sources, for those of you interested in some slightly more creative routes, here are three more cool tools to consider.
YoYo
(slide you mouse or finger across the gif and watch it animate!)
So YoYo is a new GIF maker that puts the viewer in control of the GIF. Basically by allowing users to scroll or swipe over the gif they can fast forward or rewind the action.  It can be tons of fun manipulating people an things in gifs with your finger or mouse and is a new take on an old trick. To use YOYO gif maker is fairly simple. You do have to have an account to use it but that is easily obtained through connection to your Facebook or Twitter account. Here's how you use it:
1)   Visit http://www.likeyoyo.com
2)   Log in or make an account.
3)   To add a Yoyo, click the blue '+Yoyo' button in the top right-hand corner of the site
4)   Paste the URL of the GIF and press Enter (Remember you need to have an already created GIF for this tool.) The Yoyo is created automatically.
5)   To control a Yoyo, hover the mouse cursor of the image and move it from left to right.
6)   There are several share buttons and embed codes for adding your new YoYo GIF anywhere
Cinemagram
Cinemagram is definitely a tool for the artsy Gif maker. With this tool, you can mix photography ad video into something beautiful and amazing. Simply take a video that you filmed on a tripod or standing perfectly still and highlight the areas of motion you want to remain animated. You end up with a GIF that looks like a photograph, but has just one animate section. The effect is stunning, and will certainly appeal to the artistic gif makers. Check it out and download the app for Android or iOS devices, here.
GifBook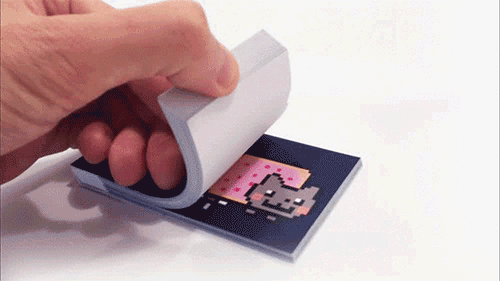 Have a favorite GIF you'd love to share in a more tangible way? GifBook might be a fun choice. With this website, simply upload or paste the url of a favorite gif and they'll convert it to a flipbook you can hold in your hands and flip through endlessly. Gif Book may be a great way to turn a fun family video clip into a book extended family members can enjoy, or just a cool coffee table conversation starter.
Other Gif Maker Tools To Consider:
GifDeck  Turn SlideShare presentations into beautifully animated GIFs
Gyazo Gif – change screen shots and video clips into gifs (great for instructional how-to video clips!)
AppGif - Turn your app previews into gifs
Glitch Wizard - Create trippy glitch photos and animated GIFs
GifSwipe - Tinder for Gifs
MeRightNow - Say more with text on GIFs
Camoji - Text animated gifs from your camera
EZgif - converts a number of video formats to GIF