343 Industries recently announced the end of their services for the Halo series. The services will only last until December 2021. Features that will take the hit are Matchmaking, File Sharing, Service records, Challenges, and Player Customization. This will affect every game version for the Xbox 360, including the Xbox One backward compatibility feature.
But you can still play Campaign and other included features like Forge, Customs games, LAN, co-op after the support ends. Yet if you want to use online services or even earn achievements it would be impossible.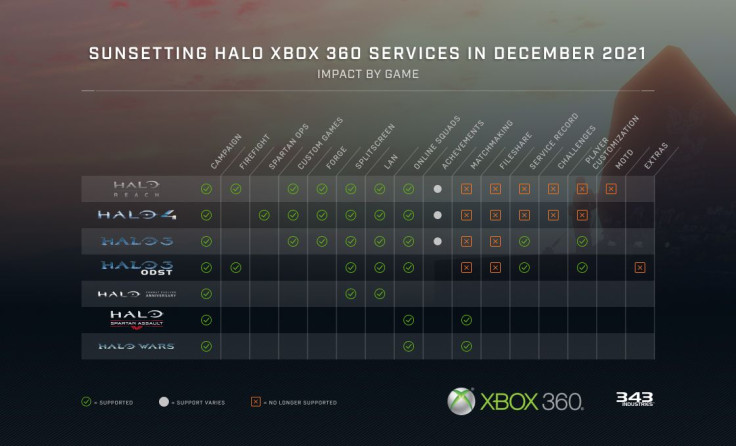 The following titles that affected by the service shutdown are:
Halo: Reach
Halo 4
Halo 3
Halo 3: ODST
Halo: Combat Evolved Anniversary
Spartan Assault
Halo Wars
Players will get plenty of time before they migrate to a new platform. The process involves four phases.
Phase One: One-time migration of over 6M pieces of Halo Xbox 360 Legacy UGC data to Halo: The Master Chief Collection.
Phase Two: Initial notification to players, Digital sales of Halo Xbox 360 titles are halted, and Halo Xbox 360 DLC can still be acquired at no cost.
Phase Three: Continued messaging and reminders throughout the year across Halo channels.
Phase Four: Halo Xbox 360 legacy services are turned off.
This news might come out as bad for the majority of the fan-base. But they have been supporting the franchise on a console that's two generations old. So, it's a good time to say goodbye to all the Halo games, at least on the Xbox 360. If you want to relive the experience of Master Chief, you could always buy Halo: The Master Chief Collection. This collection is available on Xbox Series X, Xbox Series S, Xbox One, and Windows 10 PCs for $40.
So, what do you think about 343 Industries shutting down the Halo series on the Xbox 360? Personally, I think it's a good time to end their support for older consoles and focus more on the next titles. Let us know your thoughts in the comments section below.