While there are a ton of peripherals and accessories for consoles and PC, not all of them are what everyone would consider affordable. In fact, most players would rather go for budget brands, given that they tend to have the most basic of functionalities that one would think to find with a peripheral, but without the sometimes-hefty price tag that goes along with it.
For smart buyers who often want to make the most of what they're paying for, it's beneficial to look past some of the better-known brands altogether. The past few years have seen the rise of Amazon's very own offerings for anything and everything under the sun – including, of course, your peripherals and various accessories for the Xbox One, PlayStation 4, Nintendo Switch, PC and all things related to gaming.
If you're looking to get a real budget build going, and want to spend less on things like controllers, headsets, and other gaming accessories for your Xbox One, then it may be worth checking out these amazing AmazonBasics peripherals for the console.
AmazonBasics Xbox One Wired Controller
It always starts with the controller, and if you know pricing for these things then you know that it will cost you upwards of fifty bucks for a basic Xbox One controller. AmazonBasics has an answer for this, and it does so with a few changes made to the functionality of a regular Xbox One controller. For one, this peripheral is wired, coming with pretty long USB cable. For another, it sits at about half the price of a regular Xbox One controller – if you're really economical, you can buy two of these for some couch multiplayer goodness instead of spending it all on a Microsoft-branded wireless one.
This AmazonBasics Xbox One wired controller comes in white, and has a 9.8ft USB cable. That's pretty long, and for all intents and purposes you won't find an issue with running out of cable, even if you're playing from across a large room. Some people may find the wires off-putting, but there are some who still genuinely want that wired experience, especially factoring in that you never have to worry about recharging the thing ever again – just plug it and play.
AmazonBasics Play and Charge Kit with Braided Cable for Xbox One
Getting a regular Xbox One controller means that eventually, it's battery will run out of juice. When that happens, you will need to get another battery pack and get a new cable to charge your controller. For a much more inexpensive deal, AmazonBasics has a Play and Charge Kit for the Xbox One; it comes with a battery pack for a single controller, as well as a cable for charging the thing through any USB port.
What sets this AmazonBasics Play and Charge Kit apart is that the cable it comes with is fully-braided, making it much more durable and long-lasting than other cables. It also runs a length of 9.8ft, which means that while you charge the battery, you can also continue playing from across your living room. The battery pack includes over-current, over-voltage and over-heating protection, which makes it incredibly safe from hazards despite its third-party status. If that's not enough functionality for you, then it's worth noting that the USB micro header of the cable comes with a LED indicator that shows if your controller is charging (red) or fully-charged (green).
AmazonBasics Controller Battery Pack Charger
If you've got more than one battery pack that needs charging, then it may be beneficial to look into a charger than juices more than one battery at a time. For those instances, AmazonBasics also has you covered with this controller battery pack charger for the Xbox One. This charger can take up to two battery packs at the same time, which makes it useful if you've got two or more controllers lying around. It's also conveniently small and discreet, and is perfect if you want all your Xbox One accessories and peripherals in one place.
The AmazonBasics battery pack charger comes in black, and with the positioning of the USB connector, you can conveniently place it at the side of your Xbox One console in order to keep the whole thing within one place. With a separate wire, you can keep on playing, as the charger itself comes with a pass-through port at the front. The charger also comes with two battery packs, so consider this one if you're looking to fuel your longer gaming sessions. To add further convenience, the charger comes with two LED indicators to show you which batteries have finished charging.
AmazonBasics Dual Charging Station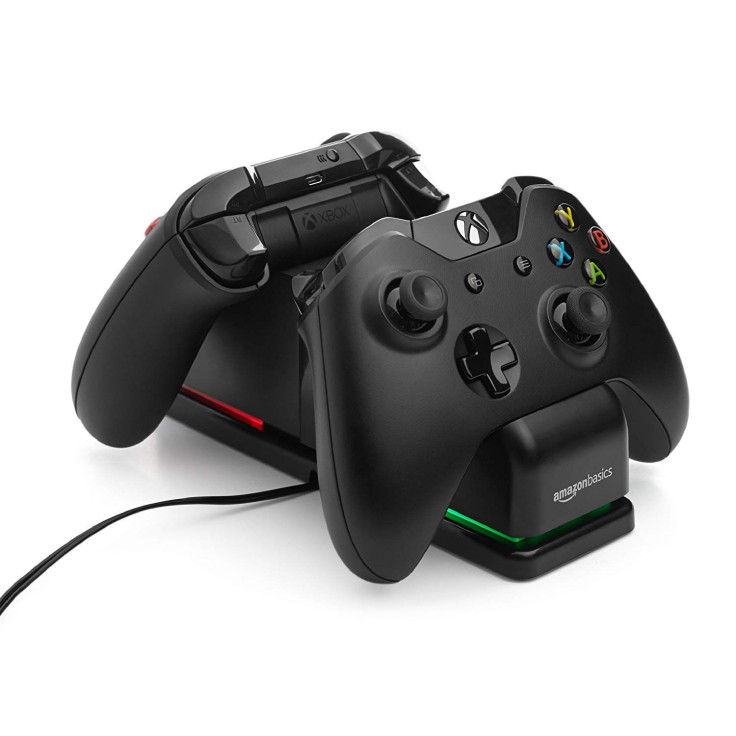 There are times when you want to charge your controller in the fastest way possible while you're taking a break from playing your favorite games. For these instances, there's also an AmazonBasics charger for you: the Dual Charging Station for Xbox One controllers. Unlike the other AmazonBasics items on this list, this one is the only one that's officially licensed by Microsoft, making this peripheral as good as other third-party options out there for charging stations.
The AmazonBasics Dual Charging Station lets you charge up to two controllers at once, conveniently docked into a small base. It's fully compatible with all kinds of Xbox One controllers – from the most standard ones, to special controllers from Xbox One S and Xbox One X consoles, and to the high-end Xbox One Elite controllers. This dock charges pretty fast, and you can anticipate a 2.5-hour charging time for your Xbox One controller. It also conveniently comes with two battery packs, so you have backups if you want to keep on playing. There are neat indicator lights near the bottom of the base that signify if the controller is charging or if it's charged to full already.
AmazonBasics Gaming Headset – Green
No gamer's experience is complete without a headset, and believe it or not AmazonBasics carries one as well. There's something to be said about buying cheaper headsets, and those with lesser brand names at that, but for the price the AmazonBasics headset does its job fairly well. It's a pretty good alternative until you ultimately get a better one at a higher price, but don't be surprised if your mileage with this headset turns out to be longer than what you thought was possible.
The AmazonBasics gaming headset is your run-of-the-mill gaming headset, complete with large earcups and a rather discreet aesthetic. Of course, it makes sense to pick a black and green scheme as you're playing on an Xbox, but if you want there's an all-black and black and blue option as well. It also has a microphone, so you can communicate with your teammates during and between gaming sessions. The headset is compatible with any device that has a 3.5mm jack, so it can also serve as your headset for the PS4, PC, Switch or mobile devices.
So, what do you think? Which of these AmazonBasics peripherals will you be picking up? Let us know and stay tuned for more recommendations from us for the best deals on the best things in gaming, from peripherals and hardware, to toys and various accessories.