Last summer, two players on Final Fantasy XIV 's Mateus server made headlines for the ownership of nearly all available land and housing on an entire ward. In a long letter, one of the two players defended themselves by explaining the hard work they'd put in to purchase all the houses across their alt characters and shell free companies in a low-population, low-demand server. Their actions spurred heated debate in the Final Fantasy XIV community.
Square Enix responded to the dearth of desirable player housing, not only on Mateus but on other servers as well, by implementing extensive adjustments to population as well as housing. These adjustments included marking certain servers as "Preferred" with a "Road to 60" EXP buff for newly-created characters, the addition of new wards and temporary restriction of plot purchases.
"With the release of FFXIV: Stormblood , we took measures intended to address the population disparity across Worlds. With Patch 4.2, we then placed a temporary moratorium on all plot sales to individuals," explained game producer and director Naoki Yoshida in a recent news post . "The moratorium placed on private plot sales in conjunction with the addition of new plots has, as we anticipated, allowed a great many free companies to purchase plots and reduce the overall disparity between them."
In patch 4.2, only free companies rank 6 or higher with at least four members could purchase housing. Auto-demolition of housing, which Square Enix had paused in the wake of natural disasters in the U.S. and the Caribbean, resumed as well. The team added wards 13 to 18, subdivisions included, across all four housing areas for a grand total of tons of new plots (I can't do math).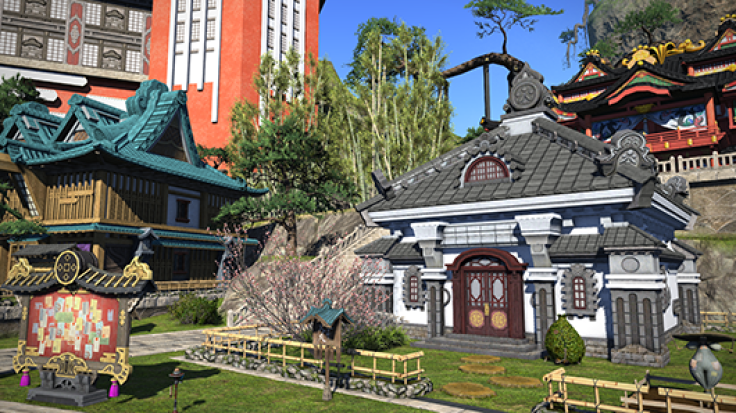 Now that free companies have had weeks to gain access to housing, housing is open to private players once more, but with a critical caveat: "Each service account may only possess one free company estate hall and one private estate per World. Once this limit has been reached, it is not possible to purchase further plots of land in the same World on that service account, including separate characters on the same World."
Players such as the two from Mateus who caused such a ruckus are grandfathered in. "Players possessing housing above this limit prior to patch 4.2 will not be affected by this change," states the official housing guide. You can check out the full and complete guide to housing here with all caveats and niche cases explained.
Plenty of excellent plots are still available, as posts on the Final Fantasy XIV subreddit make clear. (My own server boasts a similarly empty ward of The Goblet, and despite being a relatively new player, I was able to pick up a well-situated cottage in the Lavender Beds subdivision.)
What do you think of the current housing situation in Final Fantasy XIV? Were you able to purchase a house? Do you think a good plot will still be available once you've saved up the gil, or will you have to wait until more wards are added on your server? Feel free to let us know in the comments section below.