Initially revealed at E3 2019, Elden Ring finally received the official gameplay reveal and release date. The trailer was revealed at the Summer Game Fest and it was sprinkled with numerous elements that are certainly familiar with the Souls- borne fans.
The trailer kicked off with the introduction of the mountable horse that the protagonist can use to traverse the world. It is then followed by a screen that informs fans that the world of the Elden Ring is intricately crafted by Hidetaka Miyazaki and George R.R. Martin, the author of the popular Game of Thrones books.
The slow-paced trailer quickly picks up as the camera shifts from astounding environment shots to colossal enemies, which are particularly a major aspect of From Software games. The trailer brims with magic, dark fantasy, unimaginable weapons, dragons, and monsters.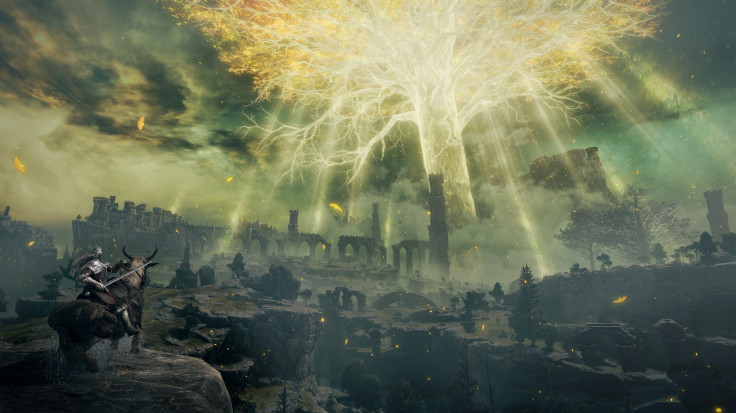 As previously rumored, Elden Ring surely seems to be operating in a larger environment than what we have seen from past From Software titles. While the world itself looks spectacular and vast, it isn't clear if the game is truly open for exploration. However, the game will feature a dynamic day-and-night cycle.
The official press release included a fact sheet consisting of interesting information. The story outline of Elden Ring intros: "In the Lands Between ruled by Queen Marika the Eternal, the Elden Ring , the source of the Erdtree, has been shattered."
The story suggested that demigods claimed the shards of the Elden Ring, which are known as the Great Runes. Obviously, the game features conflicts as hinted in the official trailer. But whoever succeeds to "stand before the Elden Ring " is likely to become the Elden Lord.
The fact sheet mentioned as well that the Elden Ring features vast landscapes and dungeons that players can explore either on foot or on horseback all by themselves or with other players online.
Elden Ring will also feature character creation and allow players to define their playstyle by experimenting with a variety of weapons, skills, and magical abilities.
Elden Ring is releasing on January 21, 2022, on PS4, PS5, Xbox One, Xbox Series X/S, and PC. Those who purchase the game on PS4 and Xbox One will also be eligible for a free upgrade on PS5 and Xbox Series X/S.