On Nov. 9, Blizzard announced what looks to be a regular occurrence – another Overwatch Free Weekend! Beginning on Nov. 18 until Nov. 21, Overwatch will be free to play on PC, Xbox One, and PS4. During this free weekend, new players will have the chance to start their journey as one of the Overwatch heroes and play against current players.

The full roster of 22 heroes (not including the newest hero: Sombra) and 13 maps will be available in several modes with the exception of Competitive Play. New players can get started with Quick Play, Custom Games, and the newest Weekly Brawl. There's more – players will also have access to leveling up, Loot Boxes and can unlock different customization options.
Once new players have given Overwatch a shot and decide to start up a serious world-saving career, don't fret, all of your in-game progress (leveling, loot boxes, etc.) will be saved so as long as the same Battle.net, Xbox Live or Sony account is used.
With no special game keys or sign-up codes, you can jump right into the action as long as you have an Xbox One (with Live Gold Membership), PS4 (PS Plus Membership), and a Windows PC and a Battle.net account set up. Cross platform is not supported at this time.
While Overwatch is available for free over the Nov. 18 weekend, there's a catch. The free period will start 2 p.m. EST (11 a.m. PST) on Nov. 18th and ends 1 p.m. EST (4 p.m PST) in all gameplay regions. See the schedule below for more detail. Go here to see how to install the 12 GB game and play.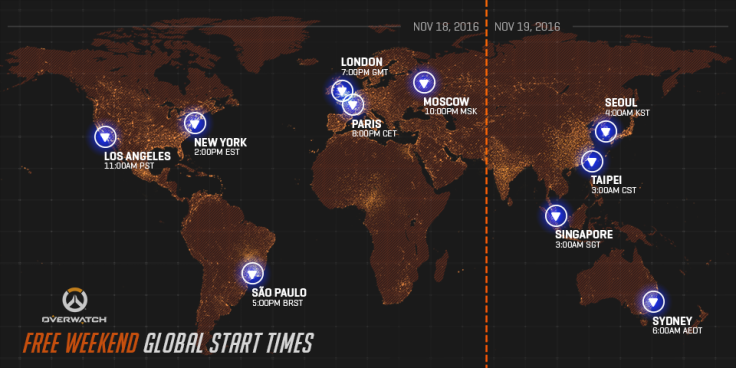 If you haven't made up your mind about Overwatch, this would be the weekend to do it. We're sure it'll get you hooked. See you out there!
'Overwatch' May Not Be Perfect, But It's Damn Near Close
Overwatch doesn't care if you've ever tried an FPS before, it holds your hands and makes you feel okay while you shoot rocket launchers, icicles and sound waves.
Amazing Art Style
Balanced Mechanics
Characters Keep You Coming Back For More
No Single Player
Overwhelming At First