We already knew that Death Stranding would be dropping on PC sometime during this summer, however we did not have any concrete release information. Now, the game has received an official release date for the PC via a PC release date trailer. Check it out below:
The PC version of the game will support ultrawide resolutions, uncapped framerates, a photo mode, and several other new features. There are also a variety of pre-order bonuses available.
Death Stranding will be available both on Steam and Epic Games Store, however buying the game on Steam will give you Half-Life themed cosmetics. The cosmetics include Alyx Vance's gloves from Half-Life: Alyx, which is set to launch on March 23. You'll also get Gordon Freeman's glasses, a headcrab, and the iconic Valve logo, which you can put on the back of protagonist Sam Bridge's head.
The photo mode as shown in the trailer will let you perform several things, including creating smiley faces. Since the game itself looks gorgeous, we cannot wait to see all the creative screenshots players will come up with.
You can pre-order Death Stranding for PC right now. And if you do so, you'll receive the following bonus content: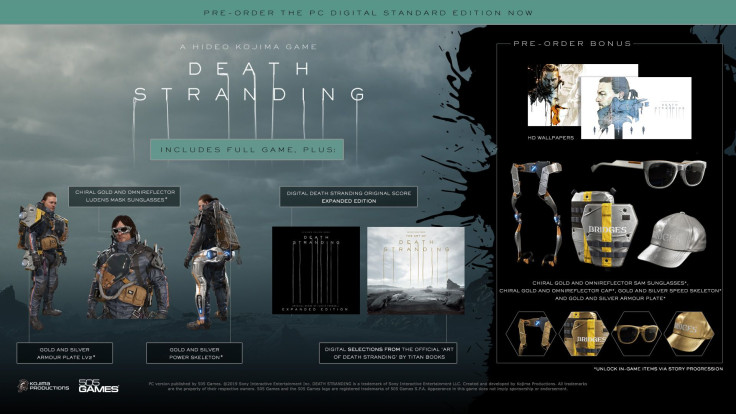 DEATH STRANDING HD wallpapers
Chiral gold and omnireflector SAM sunglasses
Chiral gold and omnireflector cap
Gold and silver speed skeleton
Gold and silver armor plate
Buying the game on launch day will offer you the following:
Selections from 'The Art of Death Stranding' digital art book (by Titan Books)
Death Stranding Original Score Expanded Edition by Ludvig Forsell (including 10 unreleased tracks)
Chiral gold and omnireflector Ludens Mask sunglasses
Gold and silver power skeleton
Gold and silver all-terrain skeleton
Gold and silver armour plate (LV2)
Additionally, in celebration of Death Stranding's launch on PC, 505 Games is also offering several free wallpapers and ringtones for your mobile phone. You can download them from here.
Personally, I am really excited to play Death Stranding on PC. Although the game received a mixed review, I always thought that it was a really unique concept for a game. Death Stranding is a perfect game if you want to take a break from action-packed mayhem and just immerse yourself in a virtual world. The only game that has given me a similar feeling of immersion has been Far Cry 3.