South African retailer Raru has recently listed a new product that suggests a Cyberpunk 2077 themed Xbox One controller is in the works. The discovery was first found by a Reddit user, who shared a screenshot of the website that refers to "Microsoft - Xbox One Wireless Controller - Cyberpunk 2077 Limited Edition (Xbox One/Windows 10)", though there are no images that accompany the information.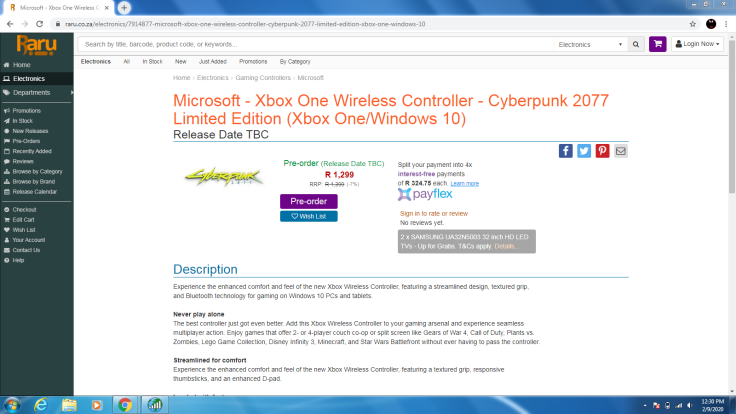 Talking about Raru, it is a reputable retailer in Africa, which means this information is likely not fake. Additionally, we are not surprised seeing gaming peripherals being themed in Cyberpunk 2077 skins as the release nears.
The product description on the page only suggests that it is a standard Xbox One controller, though I still hope that Microsoft comes up with a futuristic and dystopian skin for the controller itself. Now that the possibility of an Xbox One controller themed with the game's skin has been found, it also suggests that a Cyberpunk 2077 limited edition Xbox One console could be on the way. However, there isn't any information about whether a PlayStation variant is in the works or not.
Since we are on the topic of Cyberpunk 2077, developer CD Projekt Red has delayed the game's launch to September of this year. The game was originally set to release in April, but due to some polishing work that needed to be done, the game had to be delayed.
Cyberpunk 2077 is an open-world, action-adventure RPG game set in a fictional Night City. Night City is a megalopolis obsessed with power, glamour and body modification. You step into the shoes of mercenary outlaw V, who is going after a one-of-a-kind implant that is the key to immortality. Cyberpunk 2077 lets you customize your character's cyberware, playstyle, and skillset. Your choices in the game will shape the world around you.
Cyberpunk 2077 is set to launch on PC, PS4, and Xbox One in September.