After being delayed multiple times, Cyberpunk 2077 was supposed to release on November 19, but was further delayed until December 10, with developer CD Projekt Red citing technical reasons. According to several sources, the delay was due to current-gen consoles demanding further optimization.
Recently, a Reddit user who claims to work for a promotional company shared images of Cyberpunk 2077 promotional material, including PS4 cases. The PS4 cover of the game has some interesting bits of information that fans might want to know.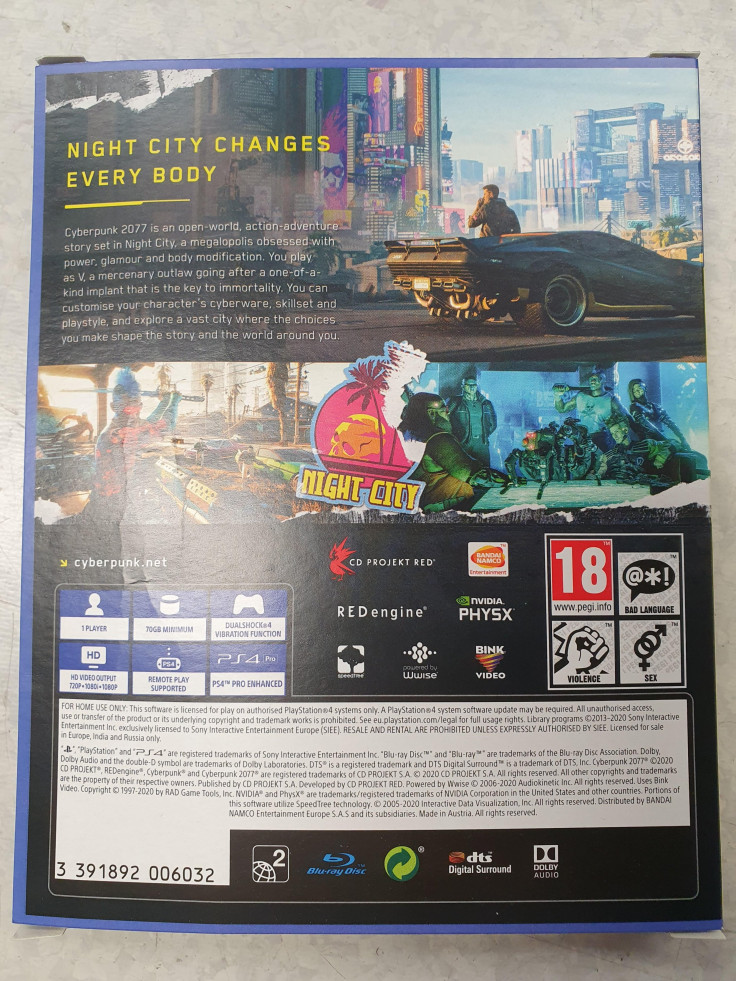 The PS4 jewel case for Cyberpunk 2077 is said to come with two Blu-Ray discs, a world compendium, stickers, postcards, and a game map. On the back cover of the case, we get additional details, one of which is that the game requires a minimum of 70GB of hard drive space, and that Cyberpunk 2077 has been enhanced for the PS4 Pro. The cover also says that the game will only support single-player mode at launch, but CD Projekt Red has said that the game will receive a multiplayer mode in the future.
Fans have been speculating how the two blu-ray discs will work. Some think that Cyberpunk 2077 will work similarly to Red Dead Redemption 2, where one disc was used for installing the game and the second disc was used to play the game.
Another interesting thing that we learned about Cyberpunk 2077 is the PS4 Pro enhancement. While fans do know that the game is getting a next-gen version for PS5 and Xbox Series X/S, it is surprising to see that there will also see enhancements for the previous generation's PS4 Pro. Although we aren't sure what these enhancements are going to be, we do hope that it will enable the game to run at a smoother framerate on the PS4 Pro.
In related news, it has also been confirmed that Johnny Silverhand, a.k.a. Keanu Reeves, is a canon in the Cyberpunk 2077 plot. Another great reason to get me even more excited for the game.
Cyberpunk 2077 is scheduled to release on December 10 for PC, PS4, PS5, Xbox One, Xbox Series X/S, and Stadia.