Even though she doesn't have powers (that we know of), Lynn Pierce is one of the most intriguing protagonists in Black Lightning so far. Her relationship with her former husband, Jefferson Pierce, is hardly the only interesting aspect of her life. She's an amazing mother with a strong moral compass who has the entire family's best interests at heart. But there's still a whole lot we don't know about her background. What does she do for a living? Did she and Jefferson break up purely because of his crimefighting? How did they meet? Why are the kids living with Jefferson instead of shared custody? And in true DCTV fashion, some emerging questions regarding source material have resulted in one long standing mystery not going unnoticed.
Let's start with a brief summary of what we know about Lynn from the period in comics history the Green Lantern/Lynn Pierce fan theory stems from. Most importantly, the comics introduce Lynn as Lynn Stewart, not Lynn Pierce, as seen in Black Lightning TV series. She was created by Tony Isabella with art by Trevor Von Eeden and first pictured in Black Lightning No. 3 as the newest member of the Garfield High School staff. It's immediately clear she and Jefferson have a rocky history. Jeff is pretty cold toward her, refusing to speak with her until No. 6, where it's revealed they are divorced. Turns out she didn't know about Jeff's alter-ego, but quickly figures it out after seeing him in action, claiming "A mask and a wig can't fool a woman who's seen you in your birthday suit." Jefferson wasn't expecting her to be so accepting, but unfortunately the story ends there for Isabella's 1970's run.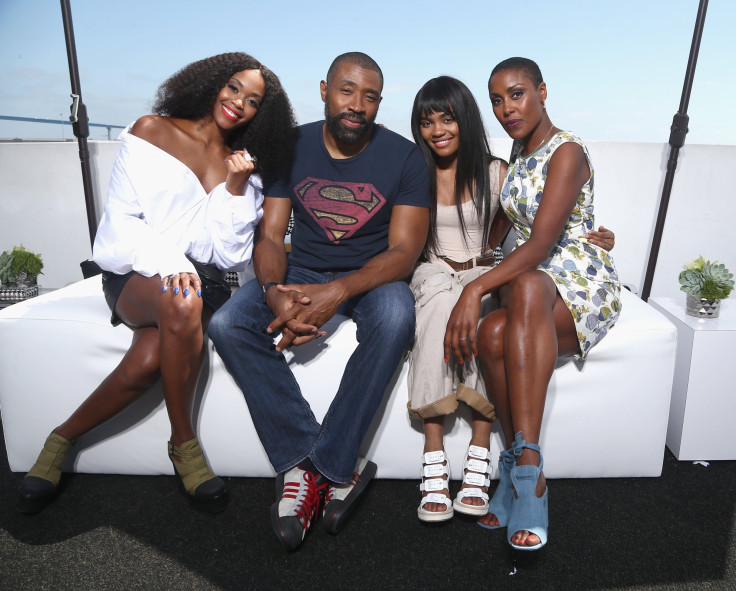 We never got to see Isabella's early vision for Lynn come full circle (though we should get at least a version of resolution in Cold Dead Hands). However, after the first episode of Black Lightning fans clearly googled the crap out of Lynn, discovering her maiden name was Stewart. Giving even more credence to the theories of Lynn Stewart being related to Green Lantern, some blogs and wiki's claim Isabella at one point said Lynn was intended to be John Stewart's sister. However, we could not find the source of the claims so we reached out to Isabella for further clarification. While there may have been a pinch of intent a long long time ago, he reiterated Lynn is not John Stewart's sister in any comic book.
"When I first came to DC, Jenette Kahn asked me to bring some of that "Marvel magic" to their comics. The interconnections between books was part of that. So when I created Lynn, I gave her the last name of "Stewart," with an eye towards maybe connecting her to John Stewart in the future. But I never did and no one else ever did either," he explained.
Even if Isabella had made the connection clear in one of his Black Lightning stories, it seems unlikely The CW would make concrete ties to one of the biggest DC characters. It took five seasons for Arrow to directly mention Batman. The fan theory of Lynn being John Stewart's sister also relies on her maiden name turning out to be Stewart. Isabella continued to say he's not hopeful the TV series will make the connection either.
"And, though I can't say for sure, I would hope that's the case with the TV show version. In any case, I was the one who first stated this, probably in a blog or interview somewhere. But I can't remember where I first stated this. The key thing to report is… it was never revealed in the comic books of the past and it's definitely not true in the new incarnation."
When Isabella says "nobody else did," he's referring to the other Black Lightning authors. Denny O'Neil took over writing duties with Black Lightning No. 11. The build up of Lynn's backstory ended along with the series in No. 12 in December 1978. Isabella returned to write Black Lightning in 1995 until No. 8 when Dave deVries stepped in for the last five issues. Jen Van Meter brought back Black Lightning for Year One in 2009.
Isabella's creative absence with Black Lightning is no more with Cold Dead Hands, his latest run with the character. In fact, he also revealed an interesting bit of information about Lynn's first appearance in the six-issue series. She was mentioned by Anissa (Jefferson's cousin not daughter in Cold Dead Hands) as a new high school teacher. It will be intresting to see how their relationship develops moving forward, but do not expect a Green Lantern connection.
"My current Lynn Stewart - who was mentioned in Cold Dead Hands #2 and will be first seen in issue #5 - is definitely NOT related to John Stewart," Isabella said.
So there you have it. May not have been the Green Lantern-Lynn Stewart fan theory piece you were hoping to read, but that's the backstory. Are you still holding on to hope Anissa and Jennifer will one day call Uncle John? Sound off in the comments and check out the Black Lightning episode of our Cape Talk podcast below.
Black Lightning Proves There's Strength In Vulnerability
Dynamic characters make Black Lightning one of the most the most truthful, culturally dense shows on network television.
Standalone series
Experienced hero
Best acting on The CW
Emotionally intelligent