Looking for a new free puzzle game to play on your iPhone, iPad or other iOS devices? We've got five new releases worth checking out this week.
Puzzle games are some of the most popular releases on the iOS app store and while many are well worth playing in your spare time, most are not complex enough to garner a full review on our site. For that reason, we occasionally compile a list of new iOS puzzle games worth checking out. Last week we saw a number of new puzzle games released to the iOS app store. Below are five we enjoyed testing the most.The best part of all -- each of them is free to download and play on your iPhone or iPad.
Best Free iOS Puzzle Games: 5 New Titles To Play This Week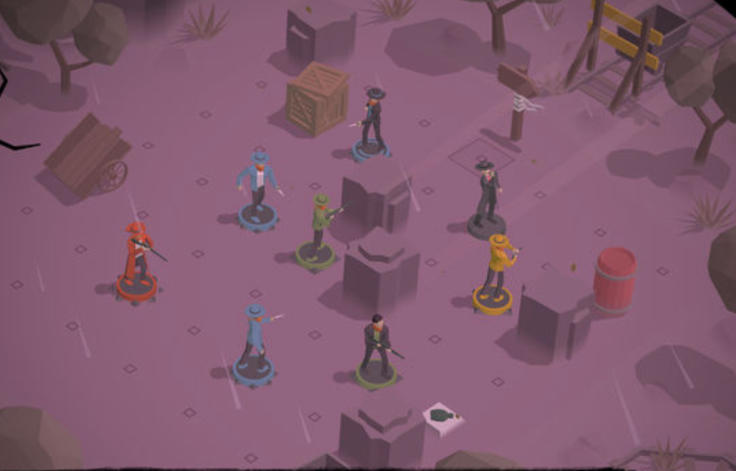 Infinite West (Turn-Based Strategy)
Infinite West is a challenging turn-based strategy game that feels kind of like playing Chess -- Clint Eastwood style. Gameplay takes place on a small 7x7 grid. At each level, your hero will assume a different position on the board while is he surrounded by enemies, supplies and explosive barrels in various positions on the board. The object of each level is to kill all the opponents before they kill you. Different types of opponents have different movement abilities and attack range. You begin a level with three lives. You must move around the board carefully, staying out of the line of enemy fire, all the while picking up buffs and weapons to help you take out your adversaries. Gameplay requires players to think steps ahead of their moves and the moves of their opponents -- similar to the thinking used in a chess match. If you manage to take out all your assailants before they end you, you'll transport to the next level. With each level, the challenges become more complex and you have to carefully plan when to move, attack, head for supplies or just hunker down and lie in wait. Infinite West isn't an entirely free game. It allows players to play the first 7 levels free, which is more than enough to help you decide if it's a game you'd return to more than once. The game is being offered now through February 16 for 40% off, making it just $2.99 to purchase the full version. If you enjoy strategic, turn-based gameplay, Infinite West is well worth checking out. You can download it here.
Word Cookies Cross (Word Puzzles)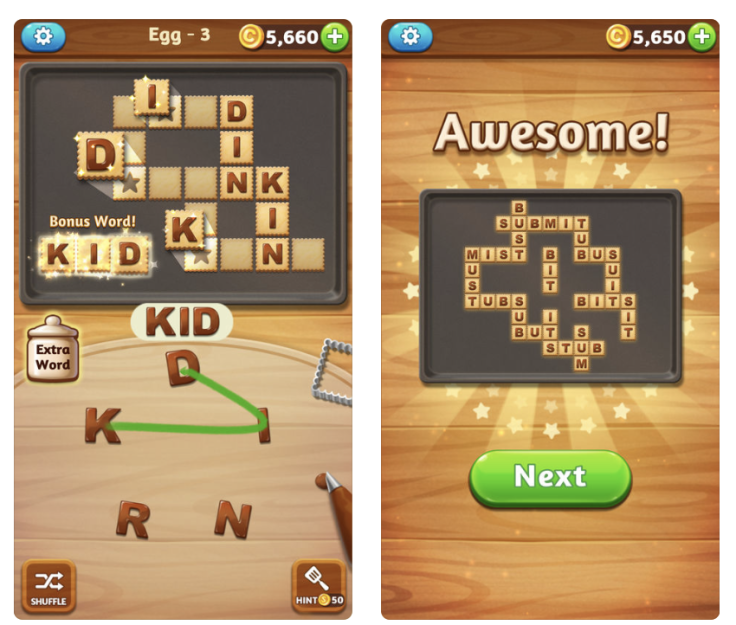 Word Cookies has been one of the most popular word puzzle games on the App Store since its release in 2016, but now the company has released a sequel which players should find equally as delightful. Word Cookies 2 aka Word Cookies Cross takes the same basic gameplay that users fell in love with in the original version and turns it into a crossword puzzler. While players will still be tasked with connecting a group of letters to form as many words as they possibly can, Word Cookies Cross makes the task a little bit simpler by placing the answers within a crossword puzzle. If you love a casual word puzzler, this one is perfect for players 5 to 95. Word Cookies Cross is offered free of charge and can be downloaded on both the Apple App and Google Play store now.
Full Of Sparks (Puzzle Platformer)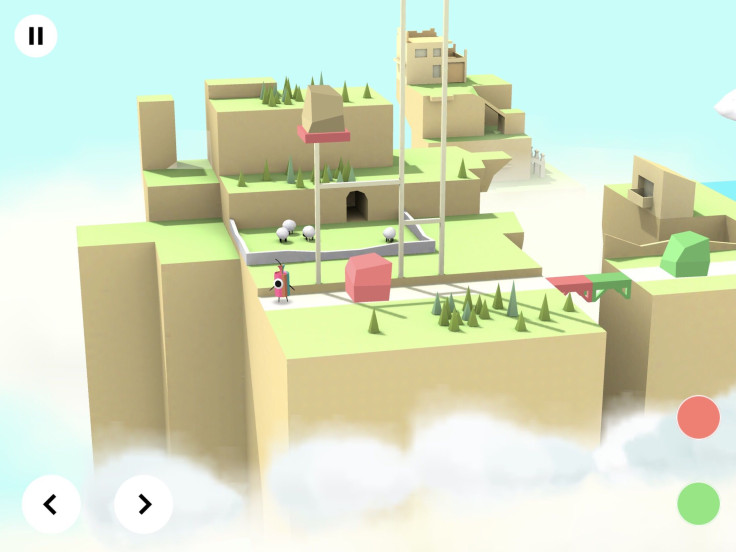 If you love mind-bending platformer puzzlers like Monument Valley , then It's Full of Sparks is the new iOS puzzle game for you. The game takes a lighter, zanier tone than monument valley as you take on the persona of spunky little firecracker who is living a life of leisure, until one day she realizes her fuse will eventually burn out and she will explode. Desperate to make her life amount to something, the little firecracker embarks on a journey to find The Old One, a mythical firecracker whose fuse has never been lit. In order to make it to the Old One before her fuse runs out, your little firecracker must run across various levels full of obstacles, adversaries and puzzles to unravel and then jump into a pool of water which will save her fuse for movement to the next level. Your firecracker comes equipped with a pair of special glasses that can be used to reveal a parallel universe of sorts, where barriers that exist without the glasses, suddenly disappear and vice versa. The game is reminiscent of Monument Valley with the out-of-the-box thinking you must employ, but because the levels are set on a timer, there is a bit more urgency to solve the puzzles before your fuse runs out. If your firecracker does end up exploding, a new firecracker take up the torch in hopes of completing the task. You only get 15 firecrackers to work with, so if you exhaust these, you'll either need to take a break from the game or watch an ad for a refill. The game also allows players the option to infinite lives if they pay $2.99 but for most players, this option won't be required to enjoy the gameplay. It's Full of Sparks is available now for free on the iOS app store. You can download it here.
DragonBreak (Match-Three/Brick Breaker)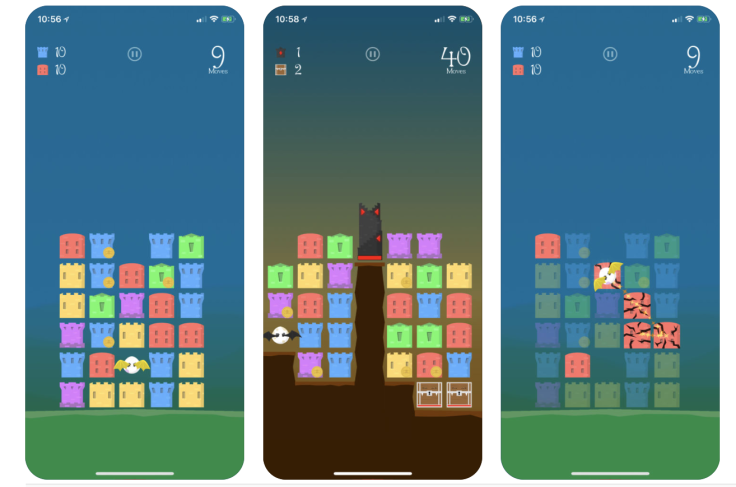 Match-three games a truly overplayed genre on the app store but we felt DragonBreak offered something just unique enough to be worth a mention. As mentioned, DragonBreak follows a match-three brick breaking game format. The game begins when you receive a Dragon's egg, which you crack open to reveal a specific type of dragon to add to your collection. Once the dragon type has been revealed, you are then taken to a game board featuring a wall of different colored castle shaped blocks. You are given the goal to break a certain amount of each color within a given number of moves in order to beat the level and add the dragon to your collection. You can only break bricks that are adjacent to your dragon. If you happen to be next to a colored brick that is connected to a chain of bricks that are the same color, then you dragon can destroy all of them. The challenge then comes in planning out which bricks will be best to destroy in order to reach and break all of them you need to before you run out of moves. If you come to the end of your moves and haven't managed to fulfill the challenge you then have the option to either spend coins to get more moves or lose that particular egg and start the level again. Similar to Candy Crush , players are given 5 eggs/lives which slowly refill themselves over time. Eggs vary in their rarity, and the goal is to collect as many different kinds of dragons as you can for your collection, which will sometimes make you not want to leave a level without beating it, if you are playing for a particularly rare egg. Players earn coins for beating levels and some of the bricks inside a level offer bonus coins for crushing them, but these won't really be enough to let you play the game for an extended amount of time. Either you'll have to be satisfied to wait for new lives or be prepared to fork over some money to refill your eggs early. For people who regularly play games like Candy Crush , this game format should be pretty familiar. Though the game isn't the most original thing I've ever played I did enjoy the incorporation of collectables Dragons with the Match-Three game format. It's made for a fun casual offering I find myself opening up when I have a few minutes to kill. If you want to give it a try, you can download DragonBreak now for free on the app store, here .
Tiles 2 (Memory Game)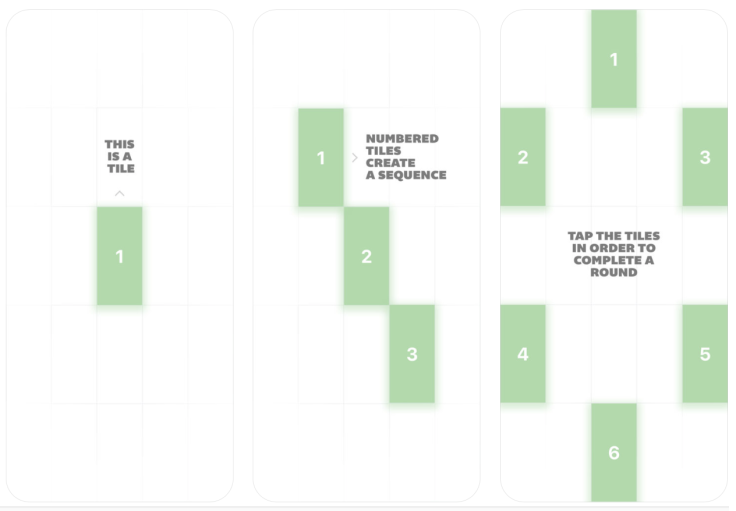 So this game is quite simple, but that's the real attraction. The gameplay begins on a 5x5 grid on which a specific number of squares will be lit green and feature a specific number. In early levels only three squares will be lit and labeled with the numbers 1, 2,3. You'll be given up to five seconds to look at the position of the squares before they will disappear. To complete the level, players must then tap, in the correct number order, on the spaces where they think the colored numbers were before. If they are correct, they will move on to the next challenge. If not the game will end and a neat little page of game stats will be displayed. As mentioned, the gameplay is quite simple but can be great for kids and adults alike to train their visual memory skills. Tiles 2 is offered for free on the Apple App store. You can download it, here.