A new track, several new vehicles, and G-Forces for the cockpit camera are now available in Automobilista 2. Read further to find out what you can expect in Update v1.3.3.0.
New Content
The Road America is the latest track that you can select in the game. It is a 14-corner circuit that measures 4.048-miles and is host to several American racing series, including NASCAR and IMSA.
New vehicles have been added as well. For instance, the F-USA Gen 3 class features the Reynard 2Ki and Lola B2K/00 - two cars that were prominently found in Champ Car racing and in CART in the early 2000s.
The Road America track and the new vehicles are part of the Racin' USA Pt2 DLC pack.
For those who play the game using the cockpit view, you're going to be stoked to find that G-forces have been enabled for the cockpit camera. This was previously available when using the helmet camera, so this change is definitely a good one. Additionally, the helmet and cockpit cameras' orientation now scales using the G-force slider in the settings.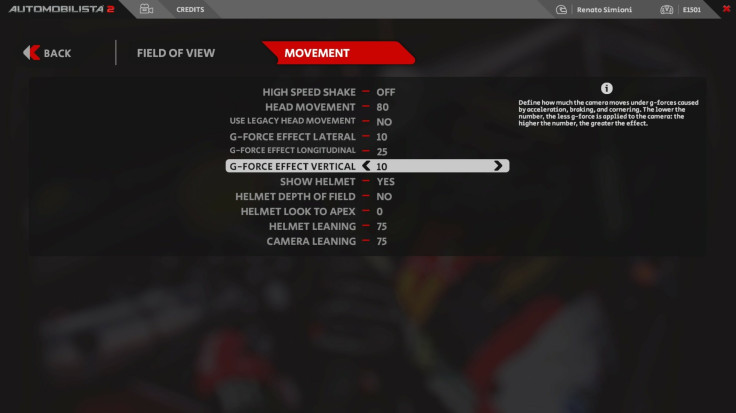 Highlights
NEW VEHICLES
Added F-Retro Gen3 class featuring Mclaren MP4-1C, F-Retro Gen3 Turbo, F-Retro Gen3 DFY Aspirated

Added VW Polo GTS & Virtus GTS to TSI Cup class
GENERAL
Fixed in-game session details not accounting for session scaling in championship mode and rounding to multiples of 5 in multiplayer

Enabled camera G-force settings for TrackIR users

Enabled look to apex and leaning in cockpit camera

Default weather progression for official championships are now synced to race

Made brake pedal sensitivity linear by default for most Thrustmaster wheel types
UI and HUD
Added Front and Rear tire selection to the quick setup menu

Fixed selected row visual states on Game control assignments tab

Fixed in-game camera options screen not correctly hiding VR options
PHYSICS
Revised wheel spin inertia for all cars

Slightly improved rear wing baseline downforce of Group A cars

Disabled now redundant auto-clutch forced off in semi-auto F1s (fixes cars stalling even with auto-clutch set on)

Added clutch damage and heating model and clutch damage attributes for DPI, GT1/GTE/GT3, C3/C3R/Omega, multiple F1s

Prevented needless auto-clutching in clutchless sequentials
TRACKS
Updated weather and climates change in European and North American locations to ease transitions in seasonal foliage (so early spring the foliage is still looking dry, early summer still lush green; and early autumn still green)
You can read the full patch notes here.