Rovio Entertainment announced at the Game Developers Conference in San Francisco that the developer has partnered with Resolution Games to release its upcoming game Angry Birds AR: Isle of Pigs. What makes this version different is that it employs augmented reality instead of a traditional screen.
What this means is that players can now overlay the game with their own surroundings, even including a 360-degree look of each level in order to come up with better strategies. Rovio said that for the initial launch of the game, there are a total of 40 levels.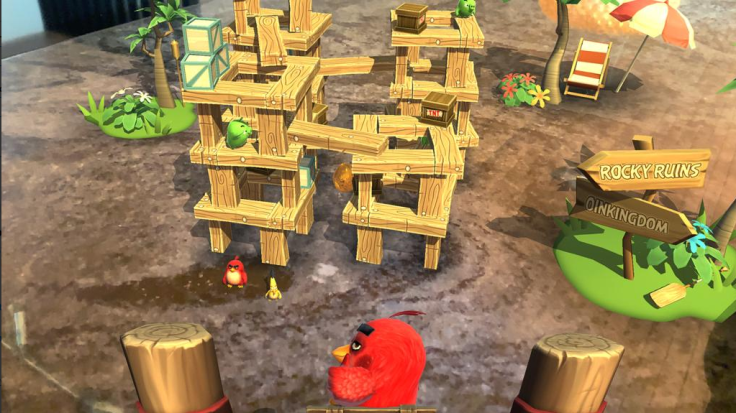 While this may appear to be a first for Rovio, the developer has been looking into AR and VR, and even released a First Person Slingshot on Magic Leap. The developer has even recently released Angry Birds VR: Isle of Pigs for Oculus Rift and HTC Vive.
In a statement, Resolution Games CEO Tommy Palm said that this latest offering "evokes the core of what makes AR gameplay truly AR." Angry Birds AR is able to make use of the different elements in Apple's ARKit and highlights what AR gameplay is capable of.
Rovio CEO Kati Levoranta added in the statement that Rovio is more than happy to bring the game to AR. It's also an exciting new step on an anniversary year, as Levoranta said "this year marks the tenth anniversary since the release of the first Angry Birds game."
Pre-order for the game is now available in the iOS App Store, with the game being accessible for iPhone 6s and above. It will also be offered for the new iPad mini, iPad Air, all iPad Pro models, as well as the 5th and 6th generation of the iPad.
Released in 2009, Angry Birds focused on multi-colored birds using different abilities to save their eggs from their enemies, the green-colored pigs. It was reported that the choice to use pigs as the enemy was driven by the fact that during development, the swine flu epidemic was the highlight of many news reports. It is considered as the most downloaded freemium game series of all time, and has spawned off other versions that include print publications, an animated TV show, and a feature film which grossed around $300 million at the box office. A sequel movie is slated for release in the middle of this year.