Despite the nautical, yacht-stuffed reskin of the Adventure Time theme song, Adventure Time: Islands is no vacation. Or, maybe it's disaster tourism. Though Finn, Jake, BMO and Susan Strong sail to actual islands, the journey's a little more metaphorical — and a lot more bleak — than that. Each new port of call visited in these new Season 8 episodes is an island in time as well as space, each inhabited by a different future for the human race. There are many possible outcomes for our species, most of them dark.
Adventure Time: Islands follows on the heels of the Season 7 two-part finale ( though Cartoon Network lists them as Season 8 episodes, for some reason), "Preboot" and "Reboot." The two-parter adds a crucial new narrative dimension to Adventure Time: this is human sci-fi beyond the colorful Golden Age spaceships-and-space-gods variety favored by the show in previous seasons.
Humans — presumed extinct except for Finn, his father and time traveler Betty Grof (Lena Dunham) — had always been nothing more than a cautionary tale in Ooo. We had died away, leaving a shattered Earth haunted by our final gift: our death drive, made manifest in the apocalyptic Mushroom Bomb that unleashed the Lich on the world. But "Preboot" introduces us to the transhumanist Dr. Gross, whose menagerie of cybernetic creations are our first indication that humans will still fight for a stake in this future, even if it means forceful body modding. By the season's end, Susan Strong is revealed to be an enhanced human as well — some sort of ultra-buff, steerable Terminator from an unknown human civilization. And this unknown civilization has Finn Mertens in their records…
Islands is about Finn and Susan's journey to this lost land of humans, what they find when they get there and what it reveals about them and about us.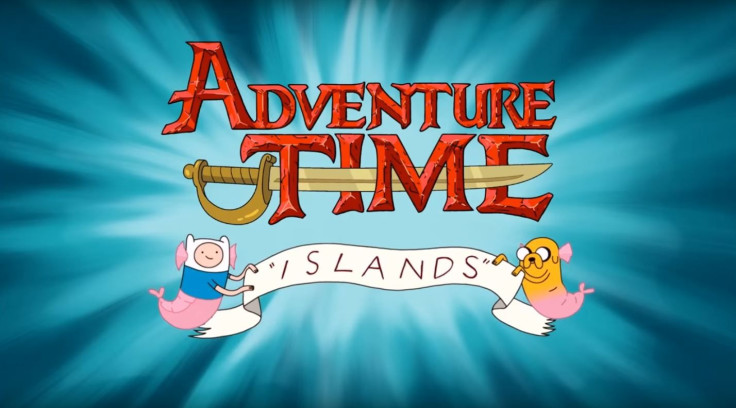 Though the first episode of Islands, "The Invitation," is mostly set-up, already the outlines of a vast critique of human society is being drawn. We are characterized by overwhelming power and insecurity, so we builds weapons to keep us safe. Too often it backfires. "Seeking human… human, come home to safety," a rampaging robot repeats. It effortlessly defeats Ooo's greatest warriors, but is indifferent and cold, depersonalizing conflict until violence is reduced to collateral damage and a blunt means to programmed ends.
Our technology doesn't care about our desires and we are bad at providing it with parameters to describe our needs accurately. Since we don't understand ourselves, neither does our technology, until we're contorted to fit the shape of something that was meant to serve us, conforming to design instead of the opposite. And so you get a robot trying to help a human by kidnapping him and killing his friends; violence birthed, like so many times in our history, from a promise of safety.
Most of the Adventure Time: Islands episodes are about similar unintended consequences to our best intentions. "The Mysterious Island" replays our disastrous meddling with nature in miniature. The island's one-time inhabitants exercised near-magic control over the weather. They can build tornadoes, keep snow in tight little boxes, but it always gets out of control, not because we were wrong, but because later conditions we hadn't expected distort our intentions. Environmental catastrophe can occur even without the intentional ignorance and profit-motive of the global warming denier. Humanity is so powerful and so fragile, Islands asserts.
But overreach isn't our only weakness. Other Islands episodes give us a glimpse of societies who retreated from any engagement with the world ("Imaginary Resources") or accepted authoritarianism in exchange for safety ("Hide and Seek"). Each island is a different nightmare and none were made that way by supervillainy or supernatural evil. It's just us, doing what we do.
While the basic parameters of these dystopias will be familiar to any lover of dystopian literature or movies, no one blends gravity and silliness like Adventure Time. Though I could only read dark portents for my species in every episode of Islands, it's as funny, irreverent and colorful as any episode of Adventure Time. Islands combines pathos and delirious imagination, playing frivolousness and seriousness off each other, back and forth, to greater heights.
At its best, Islands achieves the plateau of both impulses, such as in one of the series' best two-parters: the farcical and tragic "Lemonhope," wherein one of the most annoying Adventure Time characters is given a Homeric adventure and returns to Ooo in his old age. Dude's a goddamn harp-playing lemon with dreadlocks, but I dare anyone not to tear up at the song Princess Bubblegum writes to valorize him.
Islands has a tragic song of its own. In part:
"We had to leave our place because, the world was dying.
Our ways had failed, nature had failed, we made a lot of errors.
The founders had some new ideas that made everything better.
They built a wonderful guardian to keep destruction from our door.
The hiders feared these new ideas…"
Dystopia, division, hope and failure. The song sounds innocent at first, but it's rank propaganda used to indoctrinate children. The old bad lessons become the new bad lessons. Adventure Time may be goofy, but it always finds a core of honest simplicity in both tragedy and hope.
Adventure Time: Islands also reveals a lot of about Finn's history. But in its larger critique of humanity, Finn's personal story becomes more than just plot points or spoilers or backstory. Instead, Finn serves as a hopeful counterpoint and an embodiment of our better human qualities. Still, it's a dangerous balance. What animates so much of Islands is how easily our strengths, compounded and systematized, become monstrous.
Adventure Time: Islands is not as dour as I'm making it sound. These are eight grand and fun new episodes of Adventure Time. But if these best intentions can lead to the dark timelines of the various islands, then our own is much scarier. Unlike the islands, distorted by human optimism gone wrong, not everyone is well-intentioned here, in our world. By telling cautionary tales in the colorful Land of Ooo, Adventure Time: Islands underlines just how much more we risk in this century, where we've got to contend with evils beyond the scope of a Cartoon Network miniseries. Watch Islands as sci-fi adventure if you can, but pessimists will find much more in it to enjoy.
Adventure Time: Islands stands as the full fruition of Adventure Time's slow embrace of science fiction. It's far from the series' first science fiction story, but Islands feels different and new. At first Adventure Time was post-apocalyptic: a far-flung fantasy future in which magic has returned, like Jack Vance's Dying Earth or Adult Swim's Korgoth of Barbaria. Later seasons opened up the series' cosmology, revealing the extraterrestrial origins of Finn's god, Grob Gob Glob Grod; flying to the other side of a parallel dimensional portal and introducing new, cosmic sci-fi components like Prismo and his Time Room at the multiverse's center. But Islands opens a new phase in the series' science fiction storytelling by confronting the human race head-on.
Adventure Time: Islands is available on DVD/digital release now, with episodes airing beginning Jan. 30 on Cartoon Network.