Games these days are only growing larger and larger, which means file sizes are becoming enormous. When one single game can take up a massive portion of your hard drive, you need to look elsewhere to store all your games. This makes the WD_Black D10 Game Drive a godsend, especially for launch Xbox One owners that are stuck with a 500GB internal hard drive. I now don't have to perform the delete/reinstall shuffle any time I get a new game or want to play an older one again.
The WD_Black D10 comes with a whopping 12TB of storage space. That's enough to hold just about every game you could ever want at once. That said, when plugging the drive into my Xbox One, it only showed a max space of 10.9TB. While that's still more than enough space, it does make you wonder where the other terabyte of storage went.
Setting up the D10 is pretty much as simple as plugging everything in. The drive is big enough that it does require plugging it into an outlet, but that is only a minor inconvenience. Once it's powered up and you connect the drive to your Xbox with a USB cable, you are asked if you want to use the drive for game storage. One quick drive formatting later, and you're all set to start loading on the games.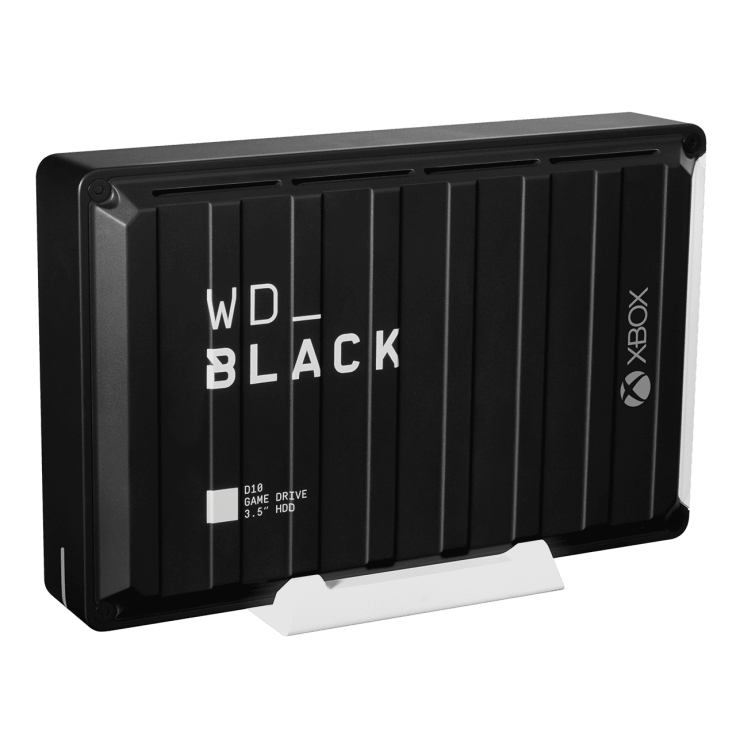 The D10 is a traditional hard drive, and not a fancy solid state drive. This means the data speed isn't anything mind-blowing. That said, I was still pretty impressed. Transferring data from my Xbox One internal hard drive to the D10 went way faster than I was expecting it to take. Downloading new games from the internet to the D10 takes roughly the same amount of time as it does downloading to your Xbox One hard drive, but that's more on your internet speed than the speed of the drive.
The same goes for game loading times. I didn't notice any particular speed increase with loading times when using the D10, but it wasn't noticeably slower either. The drive seemed to perform just like the internal Xbox One hard drive.
The D10 also includes two USB ports on the back of the drive. Since the D10 takes up one USB port on your Xbox, it's nice to see you actually gain one port back by using the D10. You can still easily charge your controllers without worrying about having to unplug anything.
One very nice perk of the D10 is that it includes a three-month code for Xbox Game Pass. This is the perfect way to get you hooked on all that Game Pass has to offer, while also allowing you to fill up your new hard drive with tons of games.
My biggest issue with the D10 is probably not that big of a concern for many out there. I live in a small studio apartment, which means my Xbox One is only a few dozen feet from my bed. The D10 doesn't seem to stop making noise. It is almost always whirring and clicking, even if my Xbox One is off. While that isn't too much of a concern, and the noises aren't particularly loud, it can get a little annoying at times hearing the drive chug away for some reason or another.
Basically, the WD_Black D10 Xbox One hard drive is a great solution if you want to have ready access to just about any game you could want. The drive is so big I don't anticipate ever filling it up, even if I just download whatever games I want from Xbox Game Pass. This drive isn't going to blow you away with speed increases or performance enhancements, but it performs comparably to the Xbox One internal drive, can be set up in seconds, and should eliminate any concerns you have for game file sizes moving forward.