Wondering why you only have one Snapchat filter showing? Where have they all gone? The new update has brought problems for Snapchat users across the globe. Find out why your filters aren't working and if there is a fix for the problem.
UPDATE 10/11/16 2:00 PM ET: Snapchat has announced a new fix for the filter issue that caused all filters but one to disappear. Download the update from your device's app store to fix.
On Monday, Snapchat released a new update that brought with it a number of much-requested changes, but it brought some problems with it as well – namely the disappearance of all Snapchat filters except one.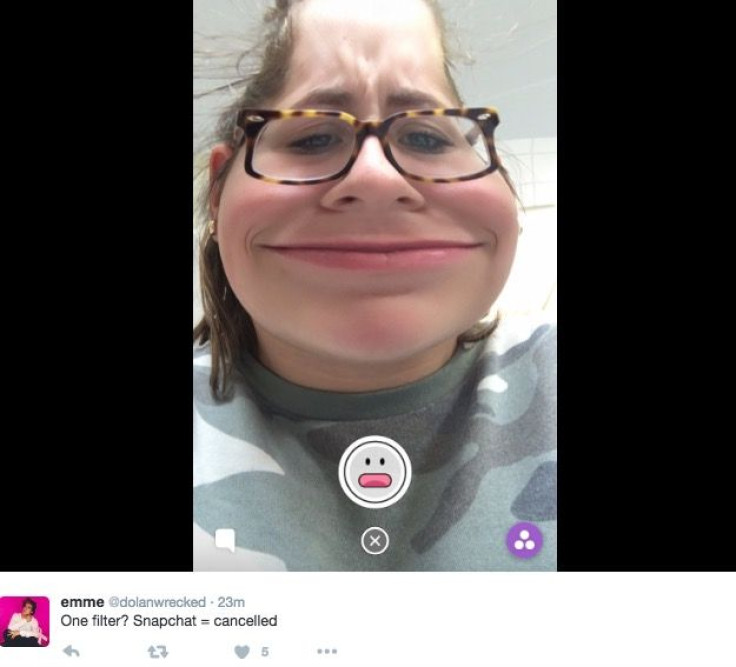 If you updated Snapchat in the last day, you probably have noticed when you go to use the face changing filters a.k.a. lenses, instead of the 10 or 12 choices that are normally available, there is now only one.
Does Snapchat Only Allow One Filter Per Day Now?
While some have started the rumor online that Snapchat's new update means that only one filter will be available each day, this isn't actually true. If you go to Snapchat's official support account on Twitter, you will see an announcement posted that explains what has happened with the filters or lenses on Snapchat. According to the post, the problem with only one filter being available is just a bug that surfaced with the new update and the Snapchat team is hard at work, looking for a fix for the issue.

If you've heard the rumor that Snapchat has only one filter now, this is not true. Once the problem has been sorted out, we're sure Snapchat will be issuing another update to fix the bug. Once a fix does become available, we'll be sure to update this post. If you haven't updated Snapchat with the latest October update, we would suggest holding off for now, until a fix for the filter issue is available.
What's New In Snapchat October 10 Update?
The October Snapchat update brings with it a couple of changes people have been requesting for a while now.
Snapchat Story Auto-Play Revamped - Snapchat introduced a story auto-play feature a few updates back which basically played your friends' stories back to back unless you swiped out of them. This feature was highly annoying as it offered no way to determine whose story you saw first and you ended up seeing a bunch of stories you didn't want to because of the auto-play feature. With the new update, Snapchatters now have control over which stories they watch and in what order. If you tap on a friend's story now, only his or hers will play. If you want to watch several stories back to back, you can still do that, but now you can choose whose stories you want to watch and in what order you want to watch them. To choose and arrange stories for auto-play, here what you do:
How To Use Revamped Snapchat Auto-Play Feature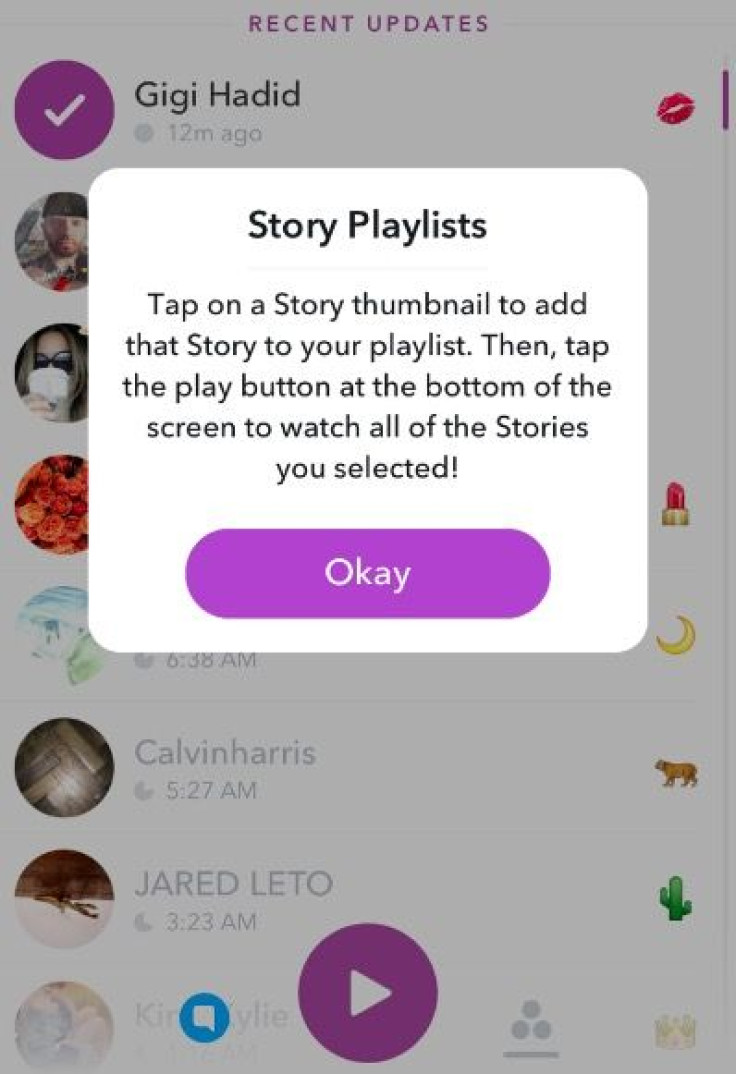 Go to the Stories tab.
Tap on the circle profile icon for the friend who's story you want to watch (be sure the first one you select is the one you want to watch first!)
You will see a purple check mark appear where the icon was. Tap on the icons of all other friends' stories you want to watch.
Once you've selected all the stories you want to watch, tap the purple "play" button at the bottom of the screen.
The stories will now begin playing in order. You can still tap the screen to advance through individual snaps, or swipe to move to the next friends' story in the line up.
Quick-Add Feature Arrives – In the same way Facebook offers suggestions for friends you might want to add, Snapchat has incorporated a new "Quick Add" feature in the update. The feature suggests individuals you may want to quickly add to your friends list based on mutual contacts. The new feature is found in the "Add Friends" menu. While some people love the new features, others find the feature a little annoying, especially if they have a ton of Quick Add suggestion. Fortunately, there is a way to hide or get rid of those Quick Add suggestions. Here's how to do it:
How To Get Rid Of Snapchat "Quick Add" Suggestions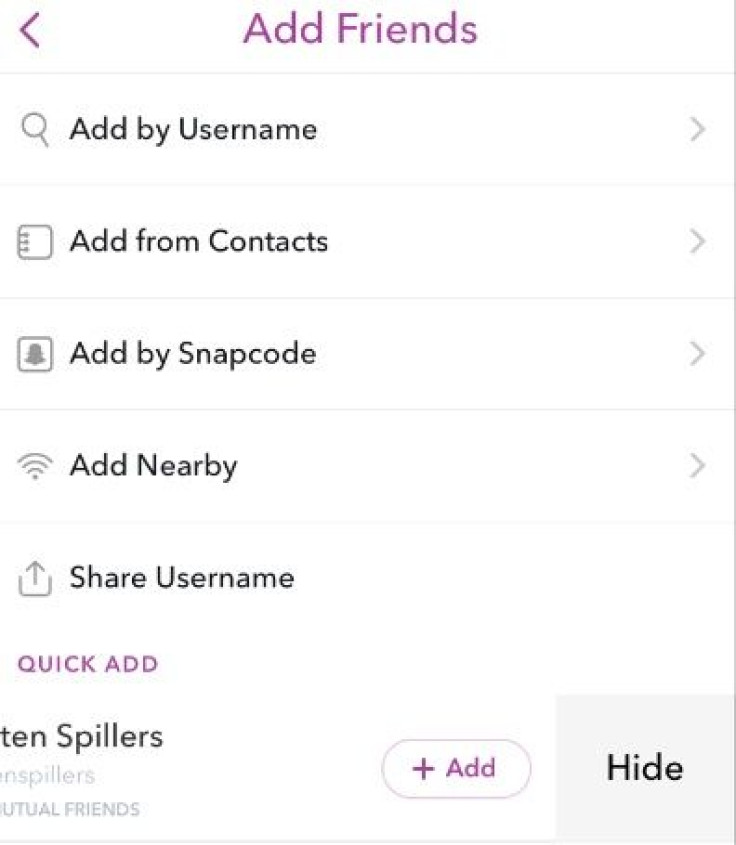 Go to the "Add Friends Menu"
Swipe left on the Quick Add suggestion you want to get rid of.
Tap on the "Hide" button that appears. The Quick Add suggestion will disappear.
How To Remove Yourself From Snapchat Quick Add Suggestions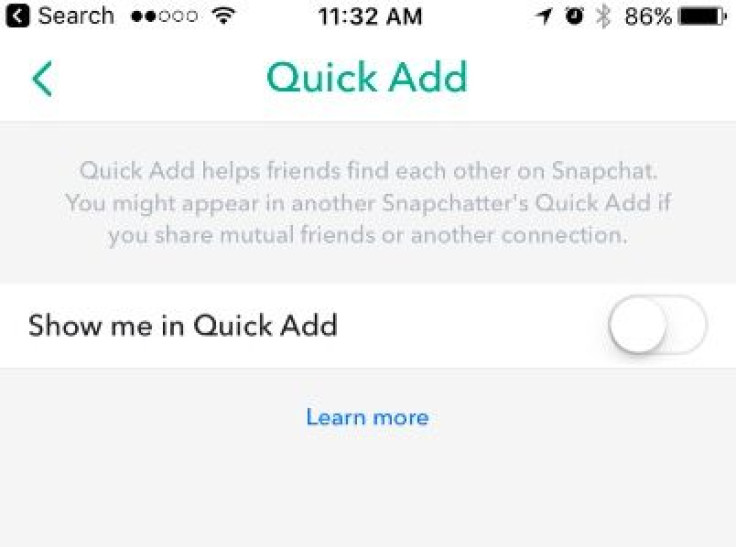 If you don't want your name showing up in people's Quick Add suggestions, you can have yourself removed.
Tap on your Camera Screen.
Tap to open Snapchat settings (gear icon)
Scroll down to 'Who Can... See Me in Quick Add' and toggle Quick Add off.
You should no longer appear to any Snapchatter in Quick Add.