After a two-year hiatus, Ghost Games is back with the latest entry in the Need for Speed franchise: Need For Speed Payback. Just as the unsubtitled reboot from 2015 (simply Need For Speed) intended to wipe the slate clean, Payback revamps the NFS series once again.
Ghost Games calls Need for Speed Payback an "action driving" experience and introduces players to dude bro Tyler Morgan and his crew who ran the show at Fortune Valley. A heist goes south after an underground syndicate known as The House double-crosses Morgan's crew. The House uses its immense circle of influence to control Fortune Valley's casinos, its street races and its cops. Tyler and his posse must take their city back from The House, one street race at a time.
Early Need for Speed Payback trailers presented the general storyline and the game doesn't offer up any riveting narratives or plot twists—don't expect an Oscar-worthy screenplay, it's a game about street-racing. Say what you want about the cliche Fast and Furious tropes, Payback strictly focuses on the cars while the story, characters and settings do their job to move the game forward.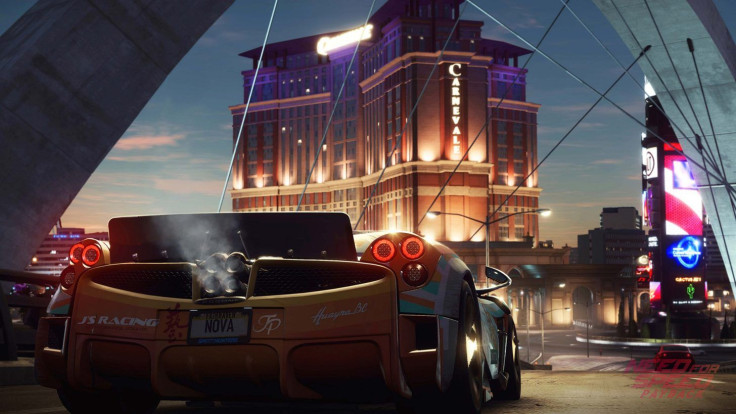 Ghost Games calls its Fortune Valley open world Need for Speed's biggest yet, as players can rip up the neon-lit casino boulevards of Silver Rock, the sandy dunes of Liberty Desert, the narrow forest trails of Mount Providence and the windy roads of Silver Canyon. The variety of street, drag, drift, off-road and pursuit modes available in the large map means Payback offers way more than the 2015 title, which didn't feature drag racing until a late update and never offered off-road at all.
The driving experience is really entertaining. Unlike the precision necessary to play realistic racing sims like Project Cars 2 or Gran Turismo Sport, Need for Speed Payback's "heroic driving engine" flatters the gamer with glorious powerslides that are really easy to execute. Dab the brakes, yank the thumbstick, step on the gas, charge the nitrous and enjoy the ride.
However, despite arcade driving physics, Payback's races can sometimes be impossibly challenging. Blind turns, tight chicanes after big jumps and narrow roads with unforgiving obstacles on high-speed sections almost guarantee big wrecks, not to mention branching track routes, traffic, and aggressive AI. The crashes are fun to watch, but get old after I had to redo the race over and over and over. What's more, everyone's favorite (NOT) rubberband AI is also back in Need for Speed Payback. While the rubberbanding does help me catch up to the pack after a gnarly crash, it's also disheartening to see a Ford Focus pass my Porsche Turbo, even when I'm having a perfect run. Fix this.
Race progression is also structured by vehicle level. Customization has been a major staple in NFS titles and cars need performance upgrades in order to stay competitive. This is easily the most complicated aspect of Payback's gameplay. There are six performance upgrades with five different perks from five different aftermarket companies. If the car is fitted with at least three upgrades derived from the same company, then an additional performance bonus is awarded.
And as each car receives better performance mods, old upgrades can be traded-in for Part Tokens. Trading in three part tokens gives players a roll on a Trade-In slot machine, which allows more chances to get a better part. Of course, the rolls go through tokens rather quickly. Players that need a little extra help may wish to purchase microtransactions in the form of Premium Shipments to replenish their token inventory. Microtransactions have been a controversial trend in games lately, but in Payback it's mostly harmless, as they're unnecessary to beat the game (I can still win races with a lower-level car) and, as far as I'm aware, do not bar players from rare items.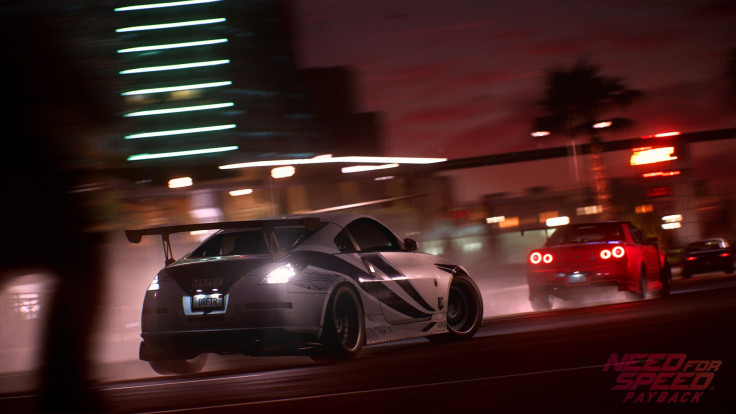 The other half of Need for Speed Payback's car customization options is strictly aesthetics. Fans that have played the 2015 title are familiar with the available options— front and rear bumpers, hood, side skirt, full body kits, aero, wheels, brakes, stance and more. Back then, fans complained when select vehicles had limited parts available. Particularly, exotics like the Ferrari F40 only had one custom rear wing available. Payback rectifies this issue, with even full wide body kits available for the Porsche 918 Spyder.
Need for Speed Payback's replay value is respectable—there are plenty of challenges and random NPCs cruising around the map for players to race against after finishing the campaign. Players will also have more time to find all the hidden derelicts sprinkled around the map and mess around with the near-infinite amount of exterior customization permutations available for all the cars.
Unfortunately, multiplayer mode feels disappointingly light. The 2015 title split its Speedlist online lobbies between Speed (races), Style (drift events) and Mixed. In Payback, players in a lobby vote after a race whether they want the next event to be on the street or off-road, which replaces the drift events. Personally, drifting is my favorite thing to do in Need for Speed, and the decision to not offer more online race modes feels like a missed opportunity.
Overall, Need for Speed Payback is good fun for those looking for a game that plays like a summer popcorn action flick. Don't expect any considerable depth in the storyline, but Payback does introduce a wide map that offers all sorts of driving modes, a big car roster, as well as deep customization options fans have come to expect. From F1 2017, Project Cars 2 to Forza 7 and Gran Turismo Sport, there's no shortage of racing games this year. However, Need for Speed Payback's action-packed experience is a worthy addition to any racing enthusiast's library.
Need for Speed Payback arrives Nov. 10 on Xbox One, PlayStation 4 and PC.
Need For Speed Payback Is The Anti-Gran Turismo
Good fun for those looking for a game that plays like a summer popcorn action flick.
Vast open world
Lots of game modes
Fun "Heroic Driving" Engine
Deep cosmetic customization options
Rubberband AI
Confusing performance upgrade mechanics
Slim online multiplayer options