Forza Horizon 5 will not be released until a couple of months from now, but developer Playground Games has revealed a tentative roster of cars that you can expect to arrive.
Just like in Forza Horizon 4, the developers said that you can expand your garage and get new cars and rewards every week by completing seasonal content. They are also bringing back some fan-favorites which will be available in the Festival Playlist.
That said, some new vehicles that you can get are the 2020 Ford Super Duty F-450 DRW Premium, 1991 Jaguar Sport XJR-15, and all-electric Porsche Taycan Turbo S.
In addition to premium cars, the devs are set to introduce innovative cars, including the Mercedes-AMG ONE, which brings the Formula 1 Hybrid technology to the game for the first time, and the 2021 Ford Bronco Badlands, which combines the performance of a mustang with the toughness of an F-series truck for that exciting off-road experience.
The devs said that details matter. So, they are excited to announce that the game will support ray tracing to Forzavista - the game's car exploration mode. The option can be enabled on both Xbox Series X/S and PC and should provide you with a more authentic feel as if you're driving the cars yourself.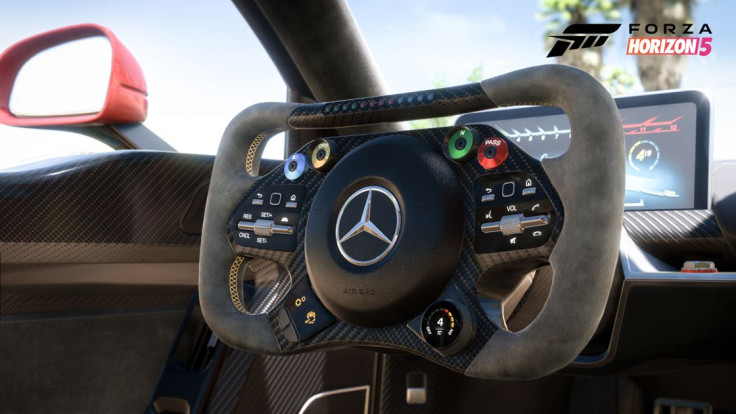 Because Forza Horizon 5 will feature its biggest roster yet. Each new vehicle you obtain will be featured under a new Car Collection interface. Think of it as your virtual car sticker book, if you will.
The cars can be tracked by their manufacturer, so it will be much easier for you to find the vehicle that you want.
Anyway, here are just some of the confirmed cars in the game's Welcome Pack:
2001 Acura Integra Type-R

2002 Acura RSX Type-S

2017 Acura NSX

2013 Ariel Atom 500 V8

2017 Aston Martin DB11

2019 Aston Martin Vantage

1995 Audi RS 2 Avant

2015 Audi S1

1958 Austin Healey Sprite MkI

2015 Chevrolet Corvette Z06

2015 Chevrolet Camaro Z/28

2016 Dodge Viper ACR

2018 Dodge Durango SRT

2014 Ferrari FXX K

2015 Ferrari 488 GTB

2015 Ferrari F12tdf

1965 Ford Mustang GT Coupe

2011 Ford F-150 SVT Raptor

2011 Ford Transit SuperSportVan

2009 Honda S2000 CR

2004 Honda Civic Type-R

2017 Jaguar F-PACE S

1964 Jaguar Lightweight E-Type

2011 Mercedes-Benz SLS AMG

1990 Mercedes-Benz 190E 2.5-16 Evolution II

2017 Nissan GT-R

1998 Nissan Silvia K's Aero

1959 Porsche 356 A 1600 Super

2019 Porsche 911 GT3 RS

1974 Toyota Celica GT

2013 Toyota 86

1998 Volkswagen GTI VR6 Mk3

2011 Volkswagen Scirocco R
The developers may reveal more cars before the game's official release on November 9, 2021.
Forza Horizon 5 will be available on Xbox Series X/S and PC.