There's a big reason for Dwellers to be happy this week. Fallout 76 is celebrating Bomb Drops Day and is offering the Fallout 1st Preview item in the Atomic Shop for free. With this item, players get the chance to try out Fallout 1st until October 26. Not only that, players also get access to the Survival Tent and Scrapbox. They also get to claim the Mechanic's Wallpaper and Mechanic's Floors.
Why is this a big deal, you ask? If you're not familiar, Fallout 1st is a subscription service which offers access to Private Worlds, exclusive discounts, and more. Private Worlds is a private server where up to eight players can adventure to their heart's content. The subscription costs $12.99 per month or $99.99 per year.
There's also another reason. We mentioned the Scrapbox, right? Well this is an item that lets you store an unlimited number of crafting materials. Once the preview ends on October 26, you get to keep whatever is in your Scrapbox.
With that out of the way, let's look at the weekly offers in the Atomic Shop. Unsurprisingly, it's still mainly about Halloween. The Coffin Decoration is offered for free and is available until October 27. Free as well is the Smiley Jack O Lantern, which is available in the Shop until November 3.
Fallout 1st members get two freebies this week with the Mummy Costume and the Squares Wallpaper. Both are available until November 3.
Moving on to this week's new offers, we have:
Available Until October 20
Available Until November 3

Cuddles the Clown Outfit
Witch Cauldron- Decoration & Cooking Station
Coffin Stash Box
Spooky Sound Machine
Skull Candles- Set of 3
Laughing Witch Player Icon
Pumpkin Vault Girl Mask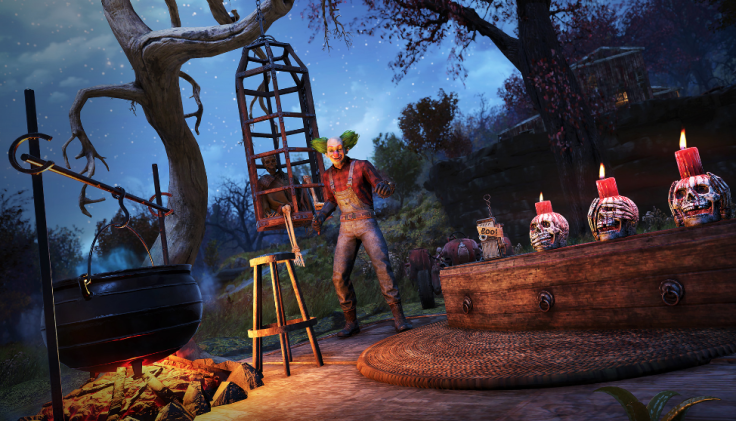 Just in case you've gone over the list above and are wondering, there is a bundle offered this week which is available until November 3. It's the Black Cat Bundle, which has an Atom Price of 1,300 and contains:
Carved Skull Candles – Set of three
Coffin Stash Box
Witch's Cauldron Decoration and Cooking station - Decoration & Cooking Station
Spooky Sound Machine
Laughing Witch Player Icon
Animatronic Black Cat (Bonus item included in the bundle)
Of course, there's the usual items that have returned to the Shop, but won't be staying long. There's the Free States Junkyard Power Armor Paint, for example, with an Atom Price of 1,200 that is offered until November 10. The items listed below are only available until November 3:
Robber Halloween Bundle
Robber Costume – Hat, Mask, Outfit, and Underarmor
Jail Cell Wall Kit
Large and Small Plasma Balls
Halloween Cardboard Cutout Set
Bat String Lights
Halloween C.A.M.P. Bundle
Halloween Decoration Bundle
There are also two new things offered this week. The first is that the Tricentennial cosmetic items are back. These should help you relive American history. The items up for grabs are:
Tricentennial Bundle
Tricentennial Power Armor Paint Set
American Patriot Suit
10mm Tricentennial Paint
Laser Gun Tricentennial Paint
Hatchet Tricentennial Paint
Commemorative Tricentennial Frame
Tricentennial Salute Emote
Tricentennial Poster Set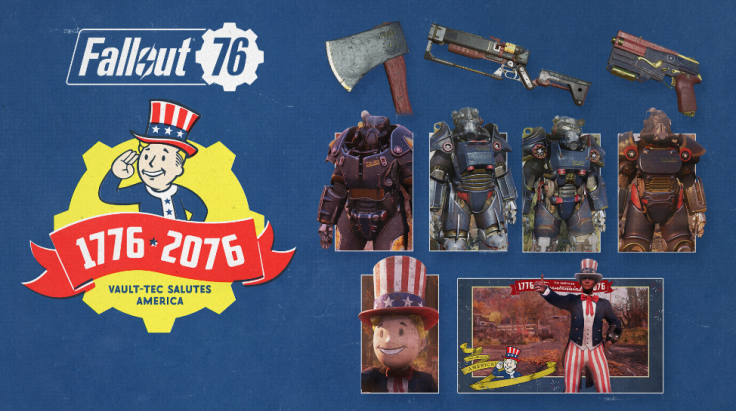 We mentioned earlier that Fallout 76 is celebrating Bombs Drop Day. The Atomic Shop is offering some deals until October 27 to celebrate. The items are:
Raider Waster Bundle
Free States Revolutionary Bundle
Survival Camouflage Bundle
Spring C.A.M.P. Bundle
Green Thumb Bundle
Mothman Cultist Bundle
Red Rocket Mega Furniture Bundle
Scrap Kit x 40
Repair Kit x 40
We end the update with these weekly offers:
Slocum's Joe C.A.M.P. Bundle

Atom Price: 1,050
Available: October 20-27

Contemporary C.A.M.P. Bundle

Atom Price: 840
Available: October 20-27

Camouflage Power Armor Paint Set

Atom Price: 240
Available: October 23-27

Keep Out Backpack

Atom Price: 100
Available: October 23-27

Glow-in-the-Dark Map

Atom Price: 80
Available: October 23-27

Light Wood Laminate Floor

Atom Price: 80
Available: October 23-27

Nuclear Winter Pose Bundle

Atom Price: 80
Available: October 23-27

Wild Appalachia Pose Bundle

Atom Price: 60
Available: October 23-27