Divine Knockout is a third-person platform fighting game where you control one of the popular mythical gods. That said, developer Red Beard Games released a new update that introduced Sun Wukong to the game.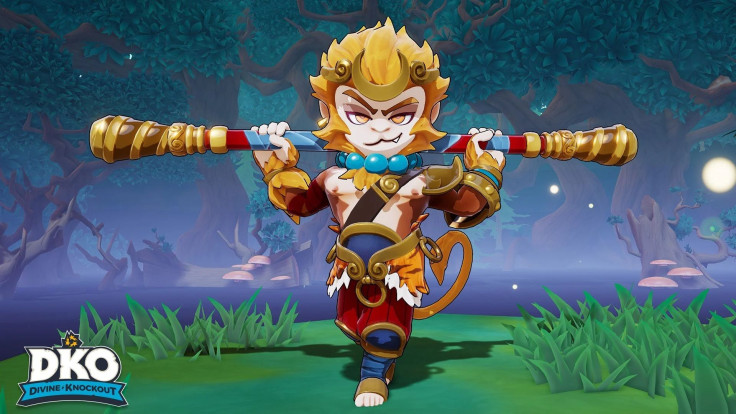 His main weapon is a staff that can be extended by an ability. Speaking of which, the Magic Cudgel ability allows Sun Wukong to extend his staff to poke enemies in front of him. Hitting an enemy with the tip of the staff not only deals damage but knocks them back as well. This is pretty good if you want to push enemies away from the platform.
The 72 Transformations is another one of Sun Wukong's noteworthy abilities. He transforms into an animal depending on where the ability was activated. If used on the ground, he changes into a fearsome tiger, while activating this ability in the air transforms him into a soaring eagle. 72 Transformations is useful when you want to close in on your opponents with relative ease.
Sun Wukong can also create a clone of himself with his aptly named Monkey Clone ability. The clone can only use basic attacks, but what makes it useful is that Sun Wukong can swap places with it by using the ability again.
Aside from the new god, the latest update for Divine Knockout introduces the new Scuttleboat Scuffle map. This is a rather spacious arena where the fighter who controls the high ground has a good chance of winning.
Changelog
NEW FEATURES
Daily Login Rewards

Receive bonus rewards for daily logins, including extra Boosters, Runes and Stars - even a cosmetic!

Bots in Custom Games

Players can now add bots to their Custom Games! Add any specific Gods to test your skills against your biggest nemesis on any maps.
CHANGES
Character Select

Players are now able to change Skins during the character selection screen

Players have a few seconds less to select their God, but more time to choose the right Talent Loadout

Players now don't see their opponents Gods before everyone is locked in

Oddball

While invulnerable, players with the oddball will not gain points

While holding the oddball, players can no longer use their movement abilities

Quality of Life

Doubled look sensitivity range on controller

Added a button to snap the camera in the character's facing direction
BALANCING ADJUSTMENTS
Amaterasu
Reduced Ultimate charge rate by 14%.
Arthur
Soaring Edge

Reduced cooldown to 16s (from 18)

Blinding Light

Reduced cooldown to 16s (from 18)

Might of Excalibur

Increased Ultimate Charge Rate by 9%
Susano
Air Light

Vertical targeting range is reduced to 2.5m - 4m (from 3.5m - 5m)

Air Heavy

Reduced Air Heavy warp range to 6m (from 8m)
Thanatos
Talents

Unyielding's damage increase is reset if Thanatos hits an enemy with an ability
Thor
Air Heavy

Increased time hitbox is active on Air Heavy by 30%

Added a 4.5m warp distance (from 0 warp distance before)

Talents

Capacitor:

Thor now gains a 5% ultimate charge for the first player it hits and then 2% per additional enemy hit (changed from 3.5% gained per hit).

Face The Hammer:

Swapped with Crashing Down in the default loadout
Divine Knockout Sun Wukong Update is available on PS4, PS5, Xbox One, Xbox Series X/S and PC.