Cyberpunk 2077 is probably the biggest new game of 2020. Developer CD Projekt Red also knows that, which is why they keep us excited with their monthly Night City Wire Episodes. The third episode was released today, which gave us a detailed look at all the gangs and factions of the game. However, the most important thing (for PC players anyway) was the announcement of system requirements.
CD Projekt Red finally announced what kind of hardware PC players will need if they want to play Cyberpunk 2077. We promise you, you will be surprised about how reasonable the game seems to be in terms of demands. However, unfortunately, CD Projekt Red didn't mention whether the requirements are for 30FPS or 60. All developers really need to start clarifying that.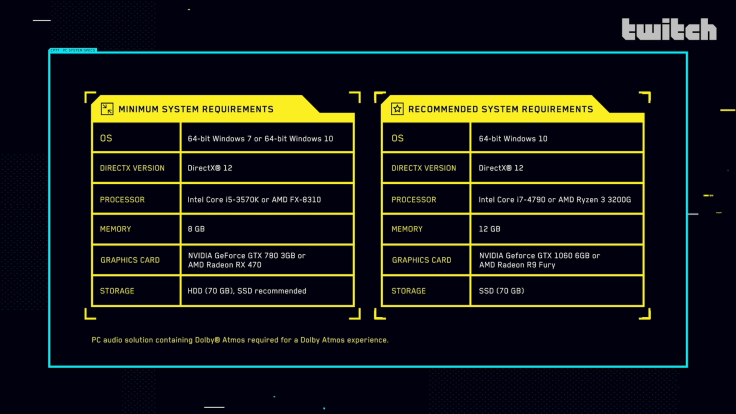 If you just want to play Cyberpunk 2077 and don't care about Ultra settings graphics and 1080p. Then you will need an Intel Core i5-3570K or AMD FX-8310 paired with either an Nvidia GeForce GTX 780 3GB or an AMD Radeon RX 470. 8GB of RAM is necessary, and the game only takes a measly 70GB of your HDD space. However, CD Projekt Red did recommend an SSD. DirectX 12 is required. The game will run on both Windows 7 64-bit and Windows 10 64-bit.
Recommended settings are a little high, but still reasonable. The RAM requirement is increased to 12GB and your game will need to be on an SSD. In the CPU department, you will need either an Intel Core i7-4790 or an AMD Ryzen 3 3200G. For GPU, you will require an Nvidia GeForce GTX 1060 6GB or an AMD Radeon R9 Fury.
These settings aren't that high when taking into account how big and visually impressive Cyberpunk 2077 is. However, we will see how the game actually performs after release only. You can read the system requirements below as well.
Minimum System Requirements
OS: 64-bit Windows 7 or 64-bit Windows 10
DirectX Version: DirectX 12
Processor: Intel Core i5-3570K or AMD FX-8310
Memory: 8 GB
Graphics Card: NVIDIA GeForce GTX 780 3GB or AMD Radeon RX 470
Storage: HDD (70GB), SSD recommended
Recommended System Requirements
OS: 64-bit Windows 10
DirectX Version: DirectX 12
Processor: Intel Core i7-4790 or AMD Ryzen 3 3200G
Memory: 12 GB
Graphics Card: NVIDIA GeForce GTX 1060 6GB or AMD Radeon R9 Fury.
Storage: SSD (70GB)